ADEMÁS DE SER UNA INSTITUCIÓN educativa católica, St. John's University es también un hogar para estudiantes de todas partes del planeta, desde Brazil y Colombia hasta China y Taiwán.
Debido a su diversidad, St. John's cuenta con estudiantes de diferentes religiones e identidades étnicas. Durante mi primera visita a esta universidad, una estudiante me dijo: "St. John's no trata de convertirte al catolicismo, sino de darte los instrumentos necesarios para que tu fe no se debilite, para consolidar tu relación con Dios".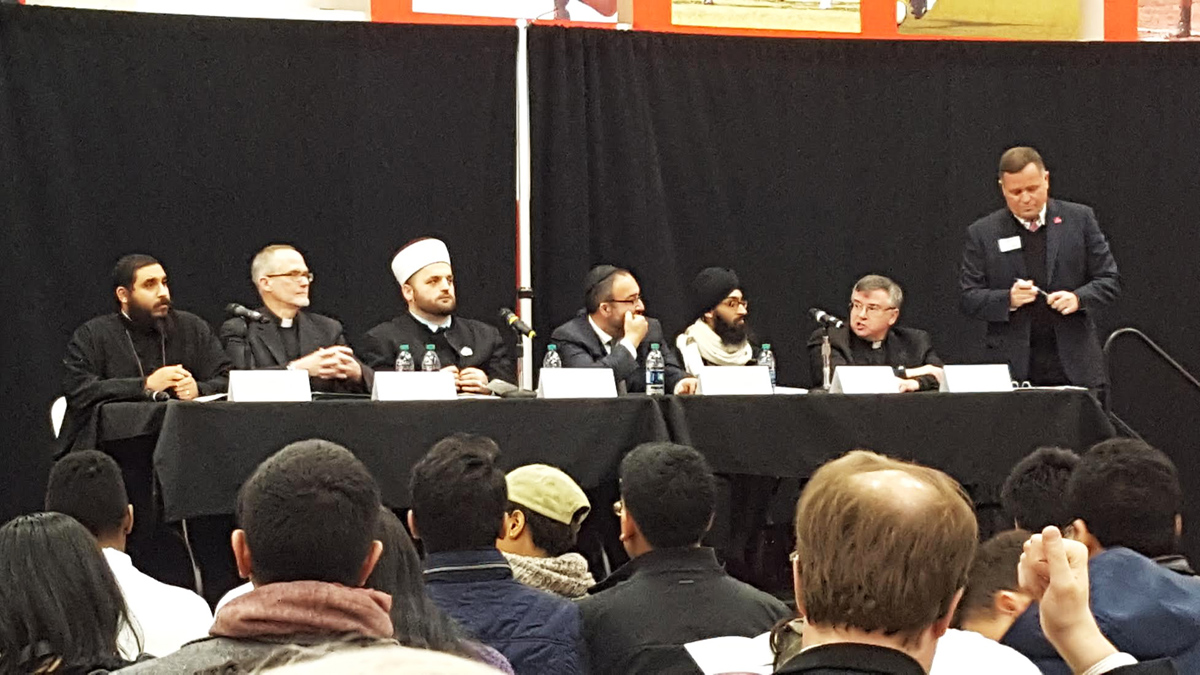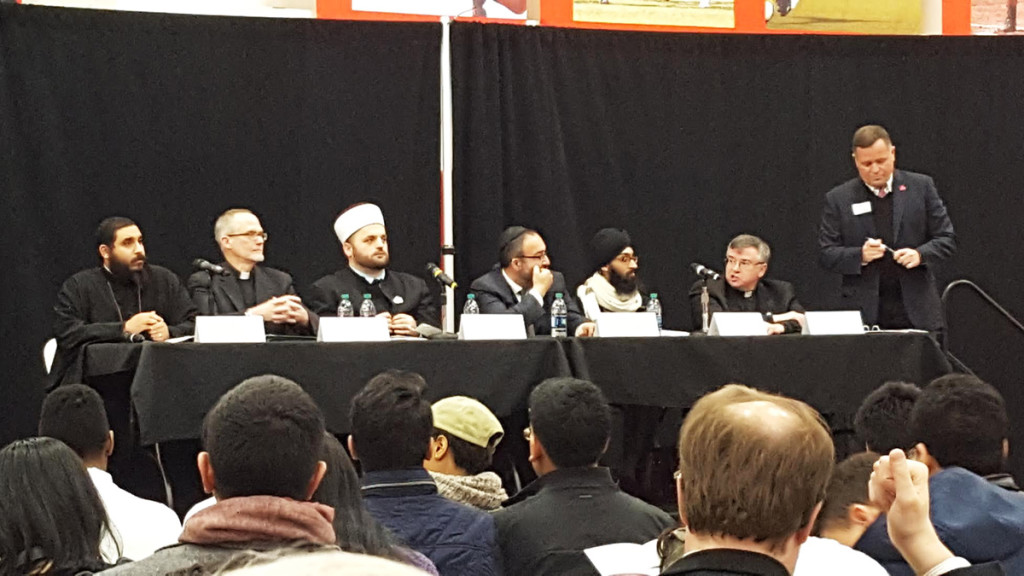 Cerca de la entrada principal de la universidad está la iglesia Santo Tomás Moro, donde se celebran dos misas todos
los días, excepto los sábados. También hay clubs y ministerios de todas religiones que ayudan a los estudiantes a adaptarse a la escuela y restablecer su relación con Dios. Por ejemplo, están la Pastoral Universitaria Católica (Campus Ministry), el Sinai's Radiant Lithurgical Dance Ministry, la Asociación de Estudiantes Judíos, Asociación de Estudiantes Musulmanes, la Intervasity Christian Fellowship, etc.
Este semestre la Pastoral Universitaria de St. John's, la Oficina de Asuntos Multiculturales y el Instituto Misionero Vicentino Cohorte IV, organizaron una cena y panel interreligioso para así ofrecer un espacio en el que estudiantes, administradores y otros miembros de la comunidad pudieran expresar sus opiniones e inseguridades y pudieran encontrar un terreno en común.
El panel titulado "Interfaith Dialogue and Dinner: Bridging Gaps to Live Your Faith in the American Culture" tuvo como panelistas al diácono Antony Andrew, diácono de la Iglesia Ortodoxa Copta en las parroquias de St. Mary y St. Antonio en Ridgewood, NY; el reverendo Robert "Bob" Fritch, pastor principal de la Iglesia Luterana de Nuestro Salvador en Jamaica, Queens; el imán Bayram Mulic, Ed.D., Presidente de la Asociación Islámica de Bosniaks en
Norteamérica, y el rabino Shlomo Nisanov, del Centro Judío Bukharian de Kew Gardens Hills, NY; el Sr. Damanpreet Singh, Gerente de Operaciones de la Coalición Sikh, y el padre Patrick J. Griffin, C.M., Director
ejecutivo del Centro Vicentino para la Iglesia y la Sociedad en la Universidad de St. John's.
En este panel se trataron temas como la unidad, los retos, la diversidad, nuestra condición de hermanos, por haber sido creados a imagen de Dios y tener como primeros padres a Adán y Eva. Durante la sesión de intercambio, los
estudiantes y profesores preguntaron sobre el tema del secularismo y cómo se relaciona la comunidad de los creyentes con el mundo secularizado en que vivimos.
También comentaron la debilitación de las creencias religiosas en nuestra época. Unas 130 personas asistieron al evento, según Dennis Gallagher, director de Liturgia y Formación de Fe. Gallagher también explicó que la idea de tener este diálogo interreligioso surgió a partir de una encuesta que la oficina de Asuntos Multiculturales hizo a los estudiantes. Los estudiantes expresaron el deseo de ver la fe crecer y ser expresada más libremente.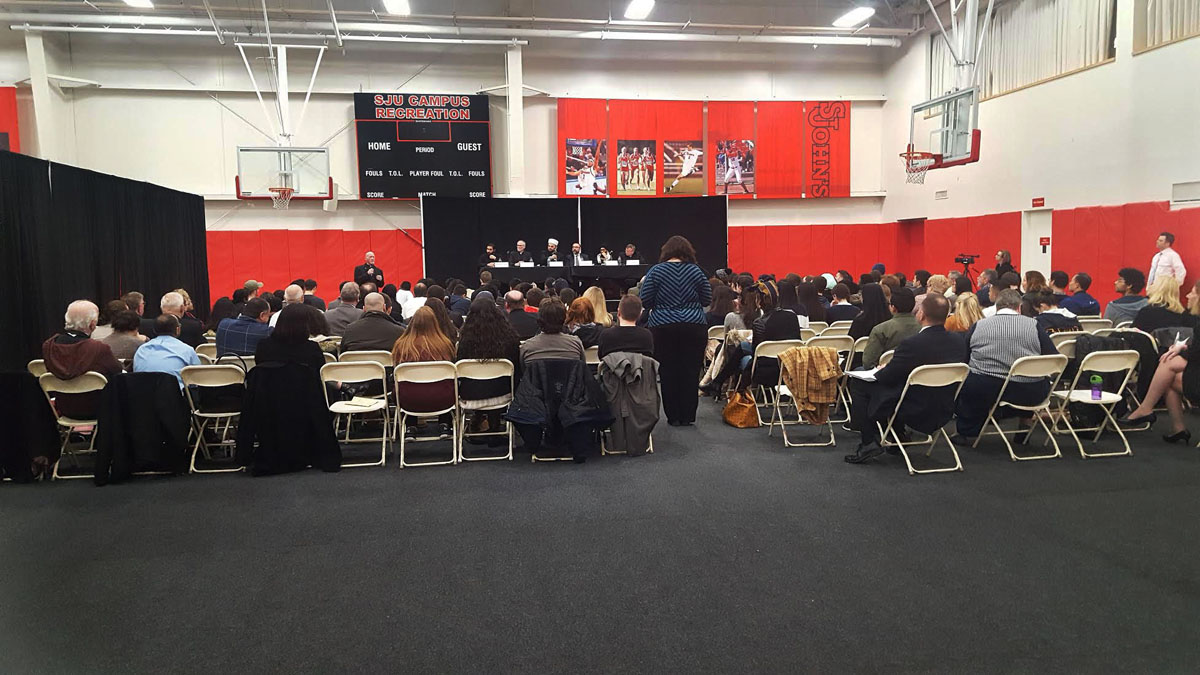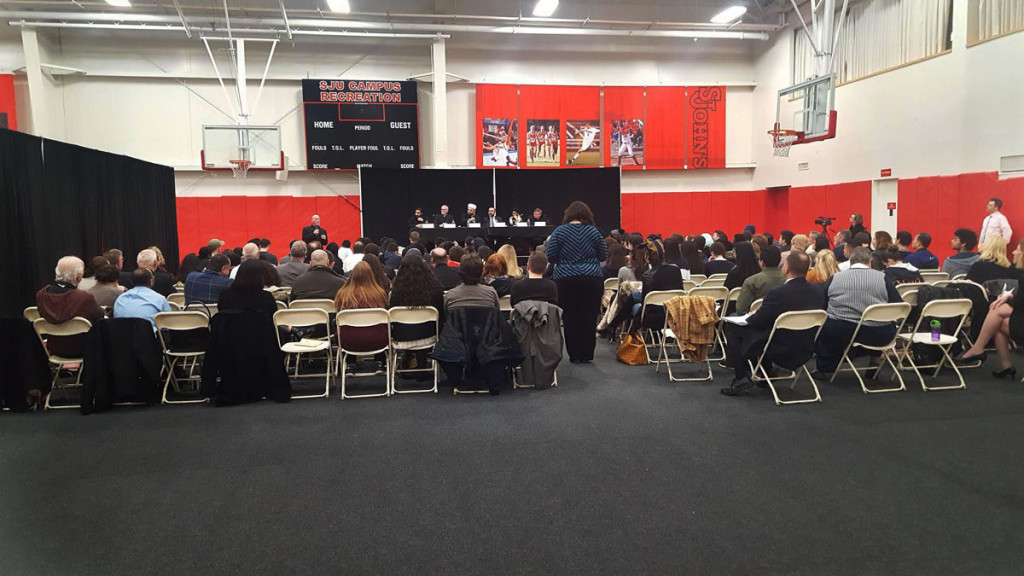 Gallagher apuntó que el plan es tener un diálogo interreligioso cada semestre de ahora en adelante. El panel no es
exclusivo para estudiantes y empleados de la universidad, sino que está abierto para la comunidad.
En su breve discurso, un representante de la Pastoral Universitaria Católica dijo que los organizadores esperaban que los asistentes salieran de allí con el ánimo de trabajar por la unidad y el entendimiento entre religiones.
Miembros de la Asociación de Estudiantes Judíos cantaron una canción en hebreo. A continuación el grupo Sinai's
Radiant Lithurgy interpretó una danza. Al final del dialogo, los presentes fueron invitados a una cena. Como Gallagher esperaba, en la cena reinó un ambiente amistoso y fraterno: todos comentaban libremente sobre las diversas religiones con respecto y cortesía. Cada uno de los panelistas estuvo en una mesa diferente compartiendo con estudiantes, profesores, empleados y miembros de la comunidad.
Muchos estudiantes expresaron su satisfacción con la realización del panel. Elizabeth Adams, estudiante de tercer año de teología, comentó: "Muy buen evento. Me abrió los ojos a muchos temas que se discuten en toda fe religiosa".
Otro estudiante que encontró el panel muy útil fue Patrick Kohn. "¡Estupendo! Tengo muchos amigos judíos y de otras religiones.[Este evento me permitió] conocer algo más sobre ellos", dijo el joven estudiante de primer año en Farmacia.