Click Here to Read this Article in English
BROOKLYN, Nueva York—. La reliquia del corazón incorrupto de San Juan María Vianney, patrón de los sacerdotes diocesanos, recorrió la Diócesis de Brooklyn y Queens del 9 al 10 de abril, haciendo paradas en Cathedral Preparatory School and Seminary, de Elmhurst; en el Centro de la Inmaculada Concepción, en Douglaston; en la Preparatoria Javeriana de Bay Ridge; y en la iglesia de Santo Tomás Aquino en Flatlands, donde Mons.  Nicholas DiMarzio, obispo de Brooklyn y Queens celebró una misa para concluir la peregrinación de la reliquia.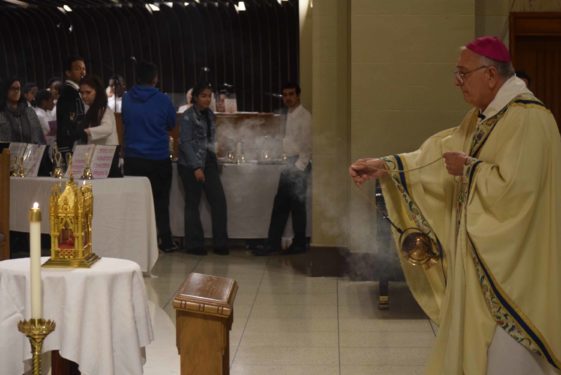 La visita de esta reliquia a 48 estados está patrocinada por la orden de los Caballeros de Colón.
Concelebrando la misa con Mons. DiMarzio estuvieron los obispos auxiliares Mons. Raymond Chappetto, Mons. James Massa, y Mons. Guy Sansaricq, así como Mons. Joseph Grimaldi, vicario episcopal de Brooklyn, el padre Michael Gelfant, capellán de la Orden de Caballeros de Colón y párroco de San Finbar, y el padre Dwayne Davis, párroco de Santo Tomás de Aquino; además de otra docena de sacerdotes.
Una iglesia abarrotada fue muestra de la devoción de los católicos por el santo cura de Ars.
"San Juan María Vianney era un hombre de gran santidad y es por eso que Dios le dio la gracia de un cuerpo y un corazón incorruptibles que aún pueden dar la vuelta al mundo para inspirar a la gente", dijo Mons. DiMarzio. "Este es un momento en el que necesitamos la santidad sacerdotal para llevar a la Iglesia a donde debe estar".
"Nos reunimos hoy aquí con mis hermanos sacerdotes y, antes de la misa, disfrutamos de la cena juntos y celebramos el trabajo y el sacrificio que todos hacen. Nos sentimos inspirados por este gran santo y esperamos poder continuar de alguna manera su obra. Nuestra diócesis tiene la bendición de poder tener su corazón aquí con nosotros cuidándonos".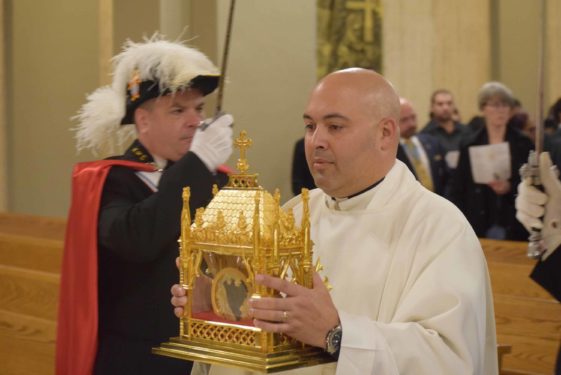 La reliquia generalmente se custodia en Ars, Francia, dondeSan Juan María Vianney vivió y se sabe que pasaba muchas horas en el confesionario. "Si ustedes leen la vida simple de San Juan María Vianney verán que él nos recuerda que su virtud heroica no estaba en la manera en que administraba presupuestos ni restauraba edificios, sino en el cuidado de las almas de los fieles", señaló el Padre Gelfant.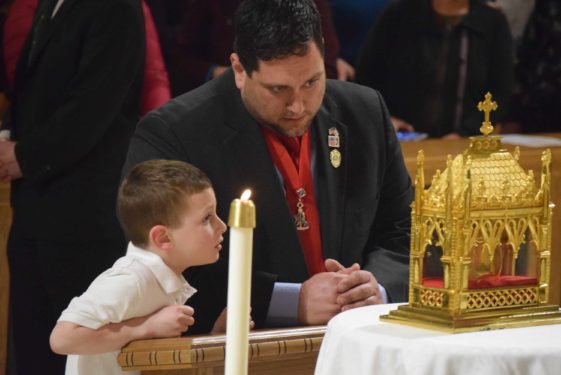 El padre Davis se enorgulleció de albergar la reliquia y la misa que concluyó la gira diocesana.
"Es un gran honor tener esta celebración aquí en Santo Tomás de Aquino", dijo el padre Davis. "San Juan María Vianney era un sacerdote para todos los sacerdotes, un hombre sacerdotal con un gran celo por el amor del pueblo de Dios. Estar aquí con los obispos y tener tantos hermanos sacerdotes que han venido a apoyarnos es una verdadera bendición. Vemos cuanto amor nos rodea. San Juan Vianney aún puede darnos tanta inspiración".