LAS PROMESAS DE CAMPAÑA son una cosa, pero la experiencia real de la presidencia es otra.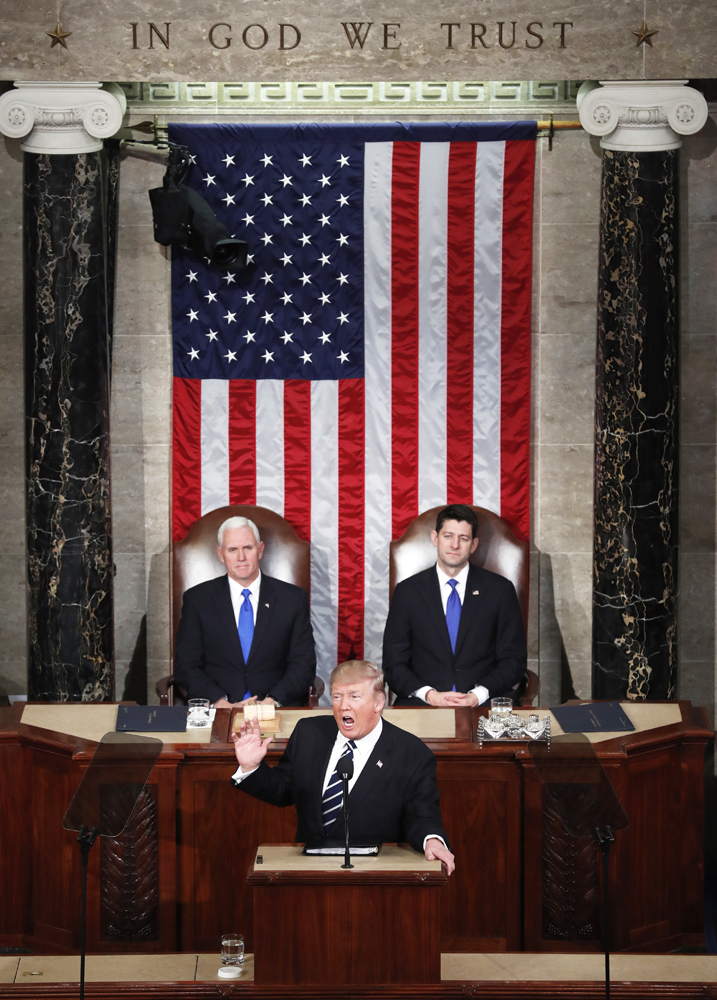 Donald Trump parece estar viviendo en carne propia el crudo contexto del cargo más importante del país en medio de amenazas internacionales de conflicto, descontento nacional y divisiones en su partido que han costado duros reveses
a sus propuestas políticas.
Comenzando con el muro fronterizo con México, el presidente no logró conseguir el apoyo del Congreso para asegurar los fondos presupuestarios iniciales de más de 1.400 millones de dólares, según informó la oficina de prensa de la Casa Blanca.
Se estima que el muro podría costar más de 20 mil millones de dólares, que serían costeados por los contribuyentes de Estados Unidos, no por México, como había asegurado Trump durante su campaña política, según investigaciones realizadas por el Washington Post.
Esta carga fiscal hizo que numerosos republicanos se unieran a los congresistas demócratas en su oposición al muro,
sugiriendo que sería más eficiente invertir en sensores y drones para vigilar la frontera.
Trump no quiso arriesgar un cierre de gobierno durante la sesión presupuestaria del pasado 28 de abril, como el ocurrido en 2013, así es que el proyecto del muro quedó engavetado por ahora.
El diario The Wall Street Journal tocó el punto débil de los congresistas y el muro al revelar que los legisladores republicanos de los estados limítrofes con México se habían hermanado a sus colegas demócratas para rechazar la asignación de fondos que había pedido Trump para el muro.
La investigación de The Wall Street Journal reveló el escepticismo de los republicanos en cuanto a la utilidad del muro y su alto costo. "Entendemos la necesidad tener mayor seguridad en la frontera, pero también tenemos una obligación de ser buenos administradores con los dólares de los contribuyentes y por tanto tenemos numerosas dudas", escribieron dos congresistas republicanos claves de Texas y Arizona en una carta.
Ted Cruz, senador texano y adversario de Trump en las primarias republicanas, y John McCain, uno de los pocos republicanos que ha criticado a Trump, dijeron que el gasto parece innecesario en este momento, señalando que hay otras prioridades para el país. Entre tanto, un juez federal de San Francisco bloqueó la orden ejecutiva de Trump enfilada a retirar fondos federales a las ciudades que desde hace años han tomado medidas para proteger a sus residentes indocumentados de la deportación, o que se han negado a convertirse en agencias operativas del Servicio de Inmigración y Aduanas (ICE, por sus siglas en inglés).
Trump había prometido cortar fondos federales y castigar severamente a las llamadas "ciudades santuario", según
informara el jefe de prensa de la Casa Blanca, Jeff Sessions, pero el juez federal William H Orrick falló a favor de las ciudades de Santa Clara, San Francisco y otras que demandaron al gobierno federal determinando que los demandantes habían demostrado el daño que se causaría con la orden ejecutiva y el posible éxito de la demanda a largo plazo.
La marca de los cien días en la Casa Blanca pasado con lecciones para el presidente que prometió ganar, ganar y ganar. Asumir la presidencia trae lecciones y asuntos que lejos de ser puntos de negociación, requieren un alto sentido de responsabilidad social que no es negociable.