Queridos hermanos y hermanas en Cristo: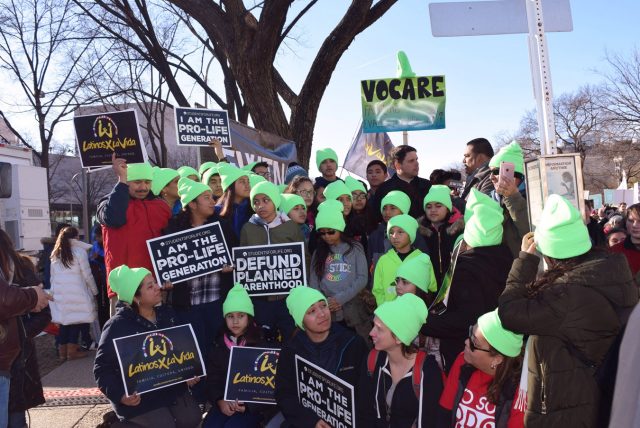 Cada año, el Movimiento Provida se da cita en Washington, DC, para realizar la Marcha por la vida. Este año se programó para el viernes 19 de enero. Este evento anual nos brinda la oportunidad de reunirnos en la capital de nuestra nación y desfilar por la avenida Constitution hasta la Corte Suprema, donde se tomó la decisión de legalizar el aborto en Estados Unidos, abriendo un camino nefasto, reduciendo la vida humana a una simple elección. Es lamentable que haya una percepción errónea sobre el comienzo de la vida humana, su dignidad innata y la posibilidad de ponerle fin.
La Marcha por la vida se ha convertido en un recordatorio de que este tipo de eventos, especialmente la legalización del aborto en Estados Unidos, son injusticias que deben ser rectificadas. Quizás no se logre de una vez. Sin embargo, cualquier intento de disminuir el número de abortos es un paso en la dirección correcta. A pesar de la situación política actual, que podría dar cierta esperanza a la futura reducción del aborto, es nuestra responsabilidad como cristianos católicos trabajar en aras de la eliminación de esta triste mancha en nuestra conciencia ciudadana.
El movimiento Respeto por la vida está activo y vigente en la Diócesis de Brooklyn. Realiza varias vigilias de oración, así como asesoramiento fuera de las clínicas de aborto durante todo el año, especialmente Helpers of God's Precious Infants, fundado por Mons. Philip Reilly. Recientemente, el historiador y apologista católico Frederick W. Marks publicó un libro donde hace una crónica de la historia del Movimiento Provida en nuestra Diócesis de Brooklyn y Queens, haciendo énfasis especial en los incansables esfuerzos de Mons. Reilly.
También, Rosario por la vida (Rosary for Life) promueve la reverencia y el respeto por el regalo de vida entregado por Dios, especialmente por la vida de los bebés por nacer. Existen innumerables organizaciones como El puente a la vida (The Bridge to Life) y el Centro de vida de Nueva York (Life Center of New York) que brindan sus servicios a familias que necesitan apoyo por embarazos no deseados.
Rachel's Helper es un ministerio apoyado por la Diócesis de Brooklyn para ayudar a mujeres que abortaron y buscan la sanación espiritual de esa experiencia, a través de talleres de grupos pequeños.
El próximo mes de noviembre, el Secretariado de Evangelización y Catequesis ofrecerá una misa de sanación por embarazos y bebés perdidos. Se extenderá una invitación especial a los padres, abuelos y hermanos afligidos por la muerte de bebés como resultado de un aborto espontáneo, muerte fetal intrauterina, aborto o muerte prematura.
No todos podemos viajar a Washington a desfilar en la Marcha por la vida o ni siquiera podemos participar en estas vigilias semanales de oración. Sin embargo, siempre podemos unirnos a miles de otros católicos de la nación en el seguimiento de "9 días por la vida" (9daysforlife.com), patrocinado por el Secretariado de Actividades Provida de la Conferencia de Obispos Católicos de Estados Unidos (usccb.org/prolife). Nueve días por la vida es una "peregrinación digital" de oración y acción, enfocada en apreciar el regalo de la vida de cada ser humano; una novena polifacética con una intención diferente para cada día con reflexiones, información y sugerencias de actividades.
Como se ha hecho ya tradición, el último sábado de enero en la Catedral Basílica de Santiago, la Orden Caballeros de Colón de Long Island (condados de Kings y Queens) patrocina la Misa Pro Vita para rezar, honrar y promover personas y causas, dentro de nuestra diócesis, dedicadas al Movimiento Provida. Cada año se presentan premios especiales en esta misa. Este año, el Premio Pro Vita Mons. Thomas V. Daily fue entregado a Kenneth Latham de Brooklyn, y a Kevin y Susan Moore de Queens. Los Caballeros me han nombrado para la Condecoración p. Michael J. McGivney, y como Caballero de Colón de Cuarto Grado, que acepté agradecido.
En el pasado, los Caballeros de Colón han honrado a aquellos que abogan en contra del aborto, ayudan a personas encarceladas o cuidan a pacientes con enfermedades terminales, entre otros, con la intención de distinguir siempre a quienes promueven la dignidad humana. Aprovecho este momento para ofrecer mi más sincero agradecimiento a los Oficiales y Miembros de la Orden de Long Island y a los Caballeros de Colón de nuestra Diócesis por su inestimable contribución a la promoción de la vida en Brooklyn, Queens y más allá de sus fronteras.
En primer lugar, debemos orar por el respeto y la protección de cada persona y su vida, a través de una pequeña oración con diferentes intenciones: reflexiones que están disponibles para todos los días.
En segundo lugar, podemos comprometernos juntos, en oración, acción y hermandad, con otras personas que comparten nuestra creencia.
Vale la pena remar mar adentro para proteger la vida humana, sin importar los peligros o inconvenientes. Vale la pena cualquier sacrificio que se haga en defensa de la vida. Únanse a este movimiento para que la defensa de la vida sea verdaderamente un esfuerzo de todos los católicos.