DUBLÍN, Irlanda (PorMichael Kelly/CNS)—. El arzobispo anglicano Michael Jackson de Dublín dijo que se sorprendió cuando los ladrones irrumpieron en una iglesia en la capital irlandesa, destrozaron la cripta y se robaron la cabeza de una momia de 800 años conocida como "el cruzado".
This is the 800 year old "Crusader" from St Michan's Church in Dublin which has been decapitated by vandals. Archdeacon David Pierpoint is telling @boucherhayes that "his was head severed from his body and taken away." The gruesome discovery was made by the tour guide at 1pm. pic.twitter.com/WVh2IHToCM

— Liveline (@rteliveline) February 25, 2019
"Estoy sorprendido de que alguien atacara este antiguo lugar de sepultura y profanara los restos de los que yacen en él", dijo el arzobispo Jackson. "Estos individuos no solo han profanado la cripta sagrada, sino que han destruido estas momias históricas, que se han conservado en St. Michan's durante cientos de años".
The total disrespect for history in this part of the country revealed in the vandalisation of St Michan's. Is it any wonder, seeing as we elevate only sneering, equivocal, condescending viewpoints of our national story, making nothing important enough to treasure? #StMichans pic.twitter.com/MNRI6dEvlk

— Patrick Cullivan (@paddycullivan) February 25, 2019
Según un portavoz el robo fue descubrimiento el 25 de febrero cuando un guía se preparaba para abrir la iglesia para los visitantes.
Gardaí believe the break-in at #StMichans church in Dublin was deliberate. They have appealed for the head of a mummy, that was stolen, to be returned pic.twitter.com/KvUzGu3i9k

— Emma Ní Riain (@EmmaNiRiain) February 27, 2019
La cripta fue dañada y varias de las momias, incluyendo los restos de una monja de 400 años, fueron profanadas en el incidente. En el caso de "el cruzado", voltearon el cuerpo y le arrancaron la cabeza.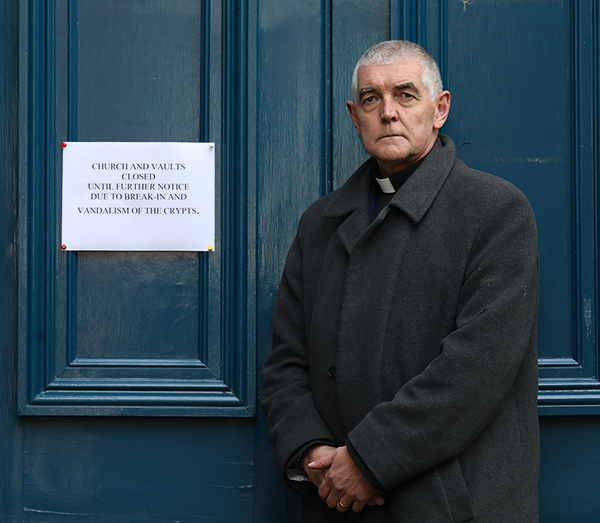 El arzobispo Jackson también rogó en su declaración "a los responsables que examinen sus conciencias y devuelvan la cabeza del caballero cruzado al lugar que le corresponde".
El reverendo David Pierpoint, archidiácono de Dublín, dijo estar molesto y decepcionado de que la iglesia haya sido el objetivo de los vándalos.
"Las acciones de estas personas son devastadoras y sacrílegas", dijo el archidiácono. "Estamos molestos por la cantidad de daños causados. Pero también la cripta tendrá que cerrarse y los turistas e interesados se perderán la oportunidad de visitarla".
"Es muy frustrante", dijo, agregando que cualquier persona con información debe comunicarse con la policía.
Un portavoz de la fuerza policial nacional dijo que los oficiales habían realizado un examen forense y que la investigación estaba en curso.