WINDSOR TERRACE —La policía publicó un video de una mujer destruyendo una estatua de la Santísima Madre y una de Santa Teresa, La Pequeña Flor, que había estado en la iglesia Nuestra Señora de la Misericordia, en Queens, durante 84 años.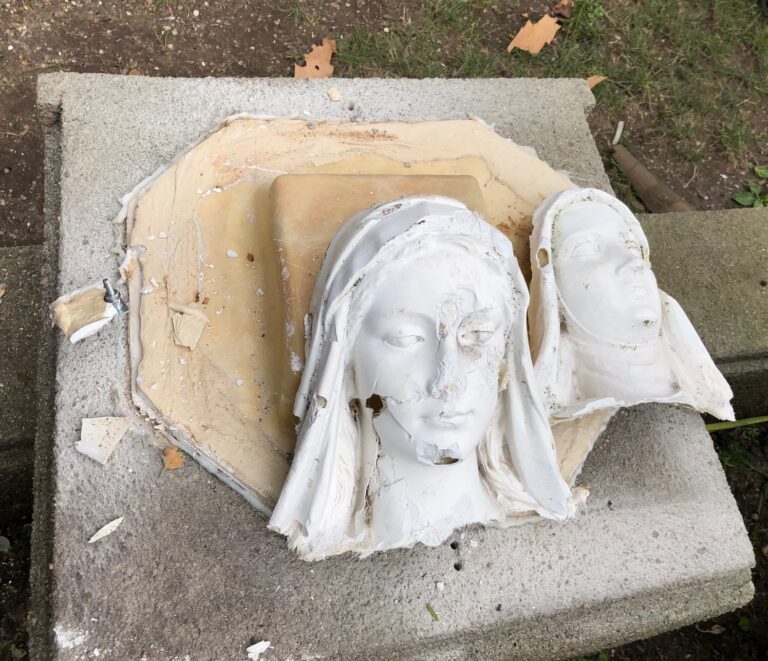 La policía de Nueva York está pidiendo la ayuda del público para encontrar al responsable de la destrucción de dos estatuas en los jardines de la iglesia Nuestra Señora de la Misericordia en Forest Hills a las 3:30 AM, durante la madrugada del 17 de julio. La Unidad de Crímenes de Odio de la policía de Nueva York está investigando el incidente.
El incidente tuvo lugar afuera de la iglesia en 70-01 Kessel St. aproximadamente a las 3:30 am. En el video se puede ver a una persona arrastrando las dos estatuas unos 150 pies a través de la 70th Avenue y golpeándolas repetidamente contra el suelo, provocando que se rompieran, dijo la policía.
La persona buscada por la policía es descrita como una mujer de unos 20 años, de complexión media, de mediana estatura y vestida completamente de color negro.
El sábado fue la segunda vez que las mismas dos estatuas fueron atacadas por un vándalo, según la diócesis. El 14 de julio las estatuas fueron derribadas pero no sufrieron ningún daño. La diócesis dijo que se cree que la misma persona es responsable de ambos actos de vandalismo.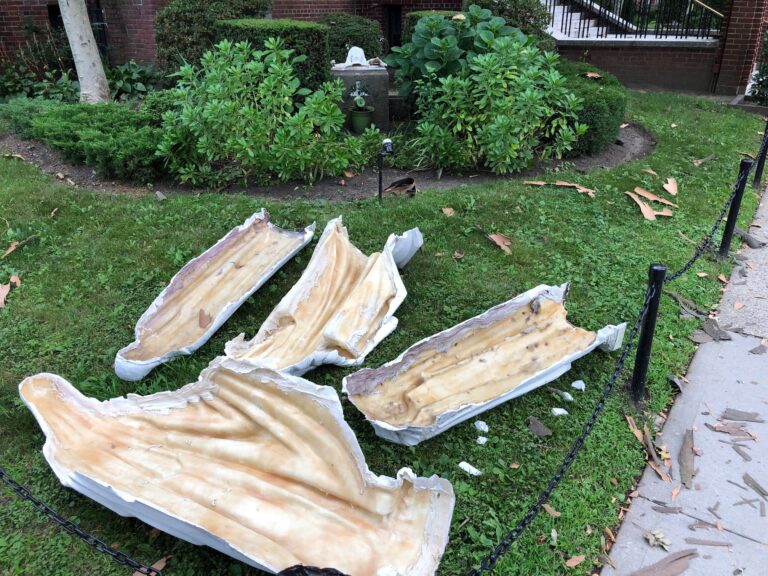 El padre Frank Schwarz, párroco de Nuestra Señora de la Misericordia, dijo que las estatuas han estado fuera de la iglesia desde que se construyó.
🚨WANTED for CRIMINAL MISCHIEF: On 7/17 at 3:30 AM, the suspect approached 70-01 Kissel St & removed two statues. The individual then proceeded to damage the statues, repeatedly slamming them to the ground causing them to break. Have any info? Contact @NYPDTips at ☎️#800577TIPS. pic.twitter.com/IEKIoIp0nR

— NYPD NEWS (@NYPDnews) July 18, 2021
"Es desgarrador, pero lamentablemente se está volviendo cada vez más común en estos días", dijo el padre Schwarz en un comunicado. "Rezo para que esta reciente serie de ataques contra las iglesias católicas y todos los lugares de culto termine, y la tolerancia religiosa pueda convertirse en una parte más de nuestra sociedad".
Cualquier persona con información debe llamar a Crime Stoppers al (800) 577-TIPS (8477) o envía un mensaje de texto a través de Twitter a @NYPDTips.