PROSPECT HEIGHTS — La Diócesis de Brooklyn, que entre su población cuenta con una gran comunidad de inmigrantes, ahora tiene tres nuevos diáconos transitorios que son inmigrantes y pueden dar su testimonio como recién llegados a los Estados Unidos.
Los diáconos transitorios son hombres que están en camino a convertirse en sacerdotes, o sea, están "en tránsito" hacia el presbiterado.
Los tres hombres dieron un importante paso para cumplir sus sueños de convertirse en sacerdotes cuando fueron ordenados como diáconos transitorios durante una Celebración Eucarística con el rito de la Ordenación diaconal en la Concatedral de San José, en Prospect Heights, el pasado 11 de julio.
Los nuevos diáconos transitorios son Robinson Olivares, de 47 años, natural de República Dominicana; Elvin Torres, de 35 años, también de República Dominicana; y Joseph Hung Sy Tran, de 38 años, nacido y criado en Vietnam. La celebración fue un importante acontecimiento para los tres hombres en su peregrinación de fe a la vida consagrada. Se espera que su ordenación al sacerdocio tenga lugar el próximo año.
El obispo auxiliar James Massa celebró la misa, que atrajo a una multitud considerable a la Concatedral, que en este momento aún se encontraba dentro de la restricción de capacidad del 25 por ciento del estado de Nueva York en las reuniones religiosas.
"Han recorrido un largo camino para llegar hasta este momento", dijo Mons. Massa a los nuevos diáconos transitorios. El obispo también habló de lo oportuno que era que la Diócesis de Brooklyn, a la que llamó "Diócesis de inmigrantes", contara con tantos miembros del clero nacidos en el extranjero.
Mons. Massa anunció durante la celebración que el Diácono Olivares sería asignado para servir en la Iglesia de Nuestra Señora del Santísimo Sacramento, en Bayside. El Diácono Torres en la Iglesia St. Ephrem, en Dyker Heights y el Diácono Jung Sy Tran en la Iglesia St. Agatha, en Sunset Park.
A pesar de los cambios recientes a causa de la pandemia del coronavirus, en la misa no faltaron los rituales tradicionales y también hubo momentos profundamente conmovedores.
El obispo Massa invitó a los nuevos diáconos a utilizar sus testimonios personales en su ministerio y a incorporar la cultura contemporánea "para transmitir un mensaje a los fieles".
También los alentó a "emplear el valioso tiempo antes de llegar al sacerdocio" para abrirse al poder sanador de Dios.
"Ofrezcan sus miedos más profundos, sus faltas más vergonzosas", dijo el obispo Massa, y añadió que podrían "servir como testigos del poder salvador de Dios en sus propias vidas".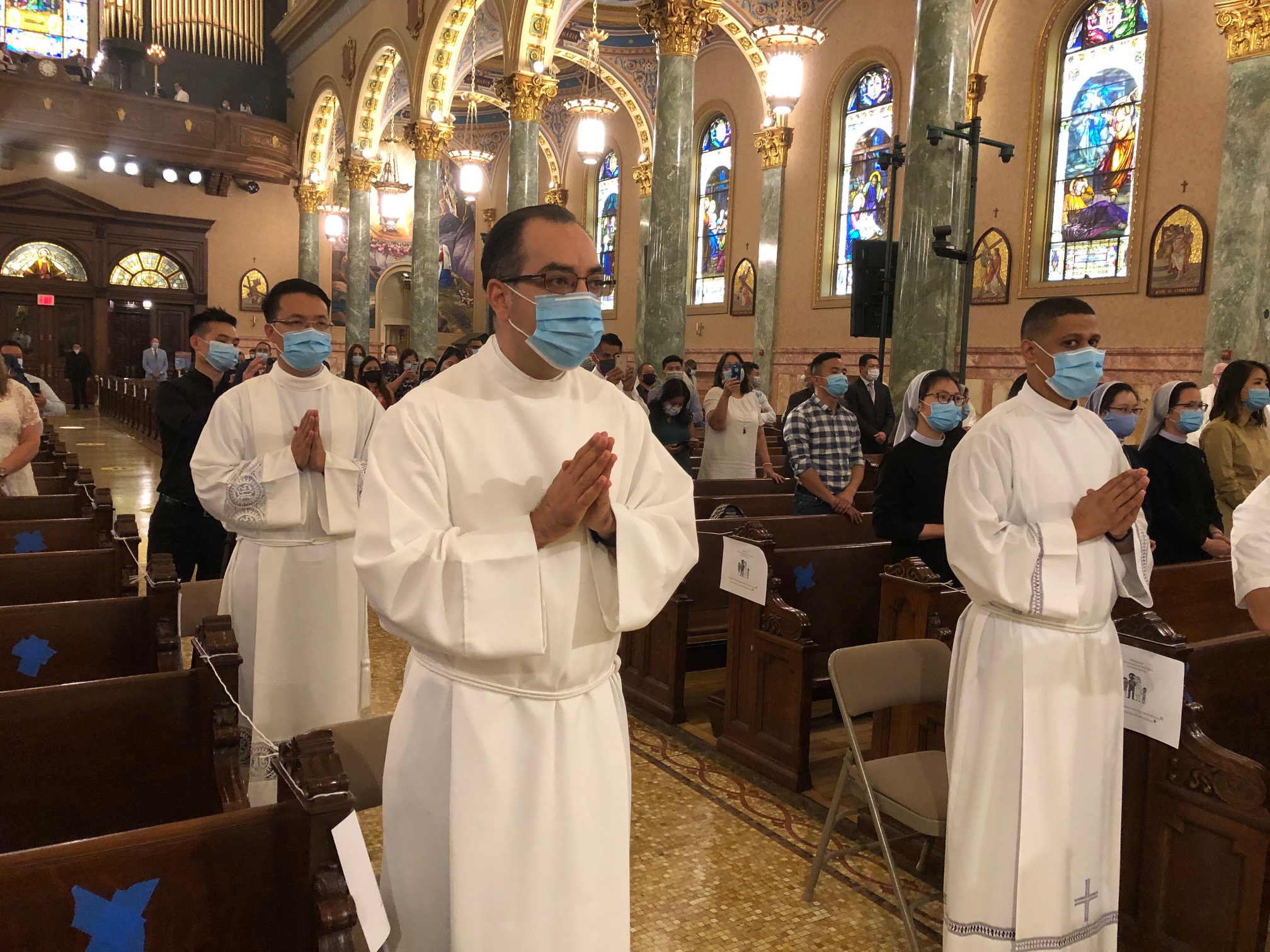 En un momento culminante de la misa, los nuevos diáconos se postraron ante el altar mientras se entonaba la Letanía de los Santos. Luego recibieron sus vestiduras.
Antes de la misa, los nuevos diáconos parecían relajados pero entusiasmados con el día que les esperaba, mientras estaban parados fuera de la rectoría de la Concatedral de San José en la calle Pacific y observaban a los invitados entrar a la catedral.
El Diácono Olivares trabajó como técnico de soporte informático durante 20 años antes de ingresar al Seminario Papa San Juan XIII. "Mi vida era como la de cualquier persona. Tenía una novia. Pero siempre sentí en el fondo de mi corazón que algo me faltaba", confesó a The Tablet. Su vida cambió cuando asistió a un retiro religioso, donde recuerda haber experimentado "un encuentro amoroso con el Señor". Poco tiempo después, sintió que estaba siendo llamado al sacerdocio.
El diácono Torres escuchó el llamado a una edad temprana.
"He querido ser sacerdote desde que tenía siete u ocho años. Sabía que recordaba haber ido a misa con mi familia cuando niño y ver al sacerdote en el altar. Me encantó su devoción y recuerdo el sentimiento especial que tuve cuando lo vi", dijo el Diácono Torres.
Años más tarde, obtuvo una licenciatura en filosofía y fue maestro "pero algo me faltaba", dijo. Se dio cuenta de que quería una relación más cercana con Jesucristo.
El Diácono Hung Sy Tran es uno de 10 hermanos: "¡Soy sexto!" dijo a The Tablet.
A pesar de que Vietnam es un país comunista, hay una comunidad católica considerable, dice Hung Sy Tran, quien dijo que él y sus hermanos ayudaron gran parte de su tiempo como voluntarios en organizaciones de caridad patrocinadas por la iglesia católica.
"Siempre he tenido conciencia del poder de Dios en mi vida", dijo. "Siempre he querido servir a Dios y a su pueblo".
En una entrevista antes de la misa, Mons. Massa dijo que admiraba el coraje de los nuevos diáconos inmigrantes. "Han dejado mucho atrás", dijo.
Cuando le preguntamos si tenía algún consejo para ellos, el obispo se centró en lo básico: "Tienen que ser hombres de oración. Su enseñanza tiene que venir de su testimonio", dijo.