El pasado 4 de septiembre, numerosos laicos, hermanas Misioneras de la Caridad y sacerdotes, junto con el obispo de Brooklyn, monseñor Nicholas DiMarzio, se congregaron en la parroquia Nuestra Señora de la Victoria en Bedford–Stuyvesant para celebrar la elevación a los altares de santa Teresa de Calcuta. La misa tuvo lugar el mismo día de la ceremonia de canonización, realizada por el papa Francisco en el Vaticano.
En un artículo sobre la misa, The Tablet citó las palabras de monseñor Raymond Chapetto, obispo auxiliar de Brooklyn, sobre las Misioneras de la Caridad, la orden fundada por Teresa de Calcuta: "Qué bendición que ellas han estado en nuestra diócesis […] vemos el buen trabajo que hacen. Sentimos la poderosa presencia de sus oraciones. Hermanas, gracias por su presencia".
Hace 24 años, en esta parroquia, Madre Teresa fundó su segundo convento en Brooklyn. En ese mismo templo donde se celebró la misa de acción de gracias por su canonización, santa Teresa de Calcuta oró en 1992 por sus hermanas.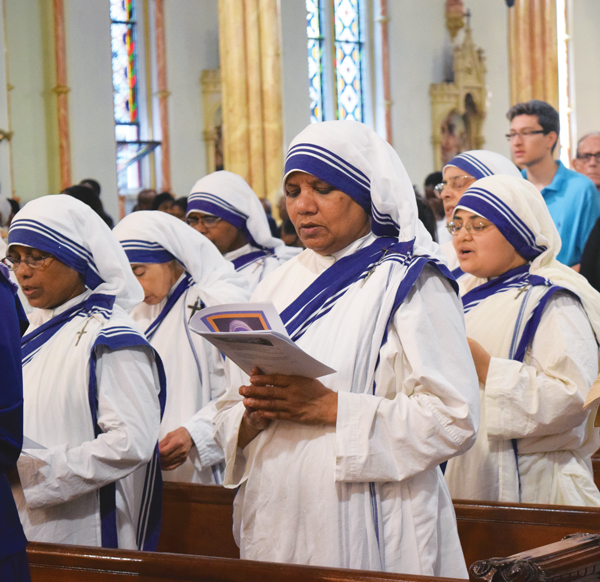 Monseñor Nicholas DiMarzio, obispo de Brooklyn, bendijo la imagen de la nueva santa, que la muestra sosteniendo en sus brazos a un niño. "Nosotros sabíamos que era santa, pero ahora es oficial", dijo monseñor DiMarzio, palabras que resumen el sentir de tantos.
"La suya fue una vida inolvidable, dedicada, como todos sabemos, a los más pobres entre los pobres. No es casualidad que la canonización de esta santa de la misericordia se dé en el Año de la Misericordia", reseñó The Tablet al destacar las palabras de monseñor Chapetto.
Después de la misa, las hermanas Misioneras de la Caridad ofrecieron un pastel y compartieron con los presentes una película sobre santa Teresa de Calcuta.
En la canonización de la Madre Teresa en la Plaza de San Pedro, y frente a más de cien mil asistentes, el Santo Padre recordó: "A lo largo de toda su existencia, ha sido una generosa dispensadora de la misericordia divina, poniéndose a disposición de todos por medio de la acogida y la defensa de la vida humana, tanto la no nacida como la abandonada y descartada".