"Vine para tener un encuentro con Jesús", dijo Carlos Castillo, un feligrés de la iglesia de San Fortunata, en East New York. Castillo era uno de 2.000 adolescentes de 65 parroquias y escuelas que llenaron la Carnesecca Arena en la Universidad de St. John, Jamaica, a finales de abril.
No estaban allí para ver un evento deportivo, sino para celebrar el Día de la Juventud Católica de Brooklyn (Brooklyn Catholic Youth Day). Fue una jornada de oración, música, charlas y oportunidades para la comunión entre los adolescentes de la diócesis.
Del 29 de abril al 1 de mayo, la Escuela Diocesana de Formación de Fe patrocinó un fin de semana dedicado a "El encuentro con la alegría de la misericordia de Cristo". El tema está inspirado en el Año de la Misericordia y el ministerio del papa Francisco. La celebración incluyó un evento para estudiantes de secundaria y una noche para universitarios. En total asistieron 3.000 jóvenes movidos por el deseo de vivir plenamente su fe.
"Esperamos que [los jóvenes] encuentren a Cristo a través de este día y experimenten la alegría de la fe", dijo Paul Morisi, coordinador diocesano de Formación de Jóvenes y de Jóvenes Adultos.
Isabella Zegarra había participado en el Día de la Juventud del año pasado y compartió su experiencia con su grupo juvenil en Our Lady of the Angelus, Rego Park. Y muchos de ellos vinieron este año.
"Me encantó la música, la predicación, me encantó la gente y me encantó que había tanta gente que amaban a Dios tanto como yo", dijo Zegarra.
Su grupo vino con el padre Osmin Vargas quien dijo que la experiencia de fe del grupo mezclaba la espiritualidad con la socialización entre adolescentes católicos.
"Conocer a otros jóvenes de otras parroquias los puede enriquecer mucho sobre todo en el crecimiento de su fe", expresó.
El cantante cristiano Ike Ndolo y su banda dieron comienzo a la jornada de la juventud. Después, el padre Josephjude Gannon, párroco de la Iglesia de St. Gerard Majella, en Hollis, habló de la vocación al sacerdocio y a la vida religiosa. A continuación, monseñor Paul Sánchez, obispo auxiliar de Brooklyn, celebró la misa y bendijo a los jóvenes y a los voluntarios que donan su tiempo para seguir construyendo la comunidad de fe en Brooklyn y Queens.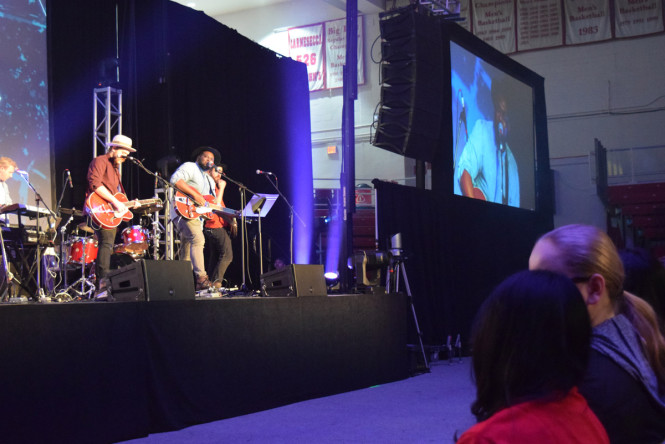 En su homilía, el Obispo relató una historia que ilustra la gracia de caminar unos con otros.
Así como "los discípulos se acompañan mutuamente para que la palabra de Dios pueda ser escuchada", dijo, "nosotros, como católicos, como cristianos, debemos hacer lo mismo con los demás" para construir el Reino en esta tierra.
Una forma de caminar con los demás en este Año de la Misericordia es servir a los pobres y llevar un poco de alegría a los que sufren, agregó.
Jackie Francois, oradora y cantante de California, dijo que ser misericordioso significa aliviar el dolor de un corazón que sufre.
Ella contó que cuando era adolescente se dio cuenta de que "todo lo bueno que tenía vino de Dios". Eso la motivó a asistir a la misa diaria y leer la Biblia, comenzando con los Evangelios. También buscó respuestas al porqué de ciertas enseñanzas de la iglesia y esto hizo que ella quisiera ser católica al cien por ciento y no a medias (o 3/4).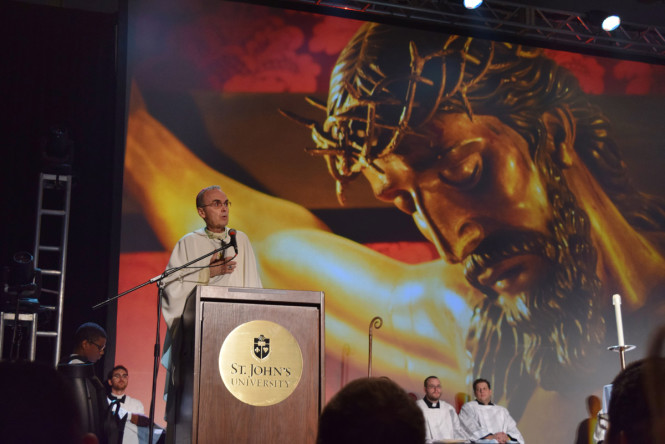 "Cuando se trata de pertenecer al equipo de Dios, Él no quiere la mitad, porque Él lo dio todo por ti", dijo Francois con una imagen de Cristo como telón de fondo.
También habló sobre el amor incondicional, el respeto, la castidad y el matrimonio —y añadió que amar al cien por ciento significa tratar de que los seres queridos lleguen al cielo. "Dios nos ha creado para el amor verdadero, un amor que dura para siempre", expresó.
Después de la charla los jóvenes asistentes tuvieron la posibilidad de recibir el sacramento de la reconciliación, mientras todos participaban en la adoración eucarística.
Pearl Larnage, de la parroquia Santa Cruz, en Flatbush, dijo que se sentía unida con los jóvenes de diferentes parroquias. "Los jóvenes también adoramos a Jesús; simplemente lo hacemos a nuestra manera", dijo. "La mejor experiencia fue [ver] el Santísimo Sacramento. Realmente se sentía como si estuviéramos viendo a Jesús".