El realizador alemán Wim Wenders (Düsseldorf, 1945) goza de aclamación universal como uno de los más grandes documentalistas de esta época. Ha dirigido excelentes películas de ficción, pero es en el documental donde su talento creativo brilla especialmente. Tres de los suyos han merecido numerosos premios, incluidas nominaciones al Oscar como mejor documental: Buena Vista Social Club (1999), sobre el redescubrimiento de un grupo de olvidados genios de la música popular cubana, Pina (2011), sobre la bailarina, coreógrafa y directora alemana de danza contemporánea Pina Bausch, y The Salt of the Earth (2014), sobre el laureado fotógrafo brasileño Sebastião Salgado.
Sus escarceos juveniles con otras filosofías y militancias nunca alejaron definitivamente a Wenders de su formación católica original, y hoy se considera un "cristiano ecuménico". Gran admirador de san Francisco de Asís, se sintió atraído desde el primer momento por el Papa Francisco, el primer Papa de América, el primero jesuita y, algo que el realizador encontró sin dudas como lo más significativo, el primero en escoger el nombre de Francisco, el pobrecillo de Asís.
El Papa Francisco, un hombre de palabra —disponible en Netflix—, no es una semblanza biográfica del Papa, ni uno más de los trillados programas de "24 horas en la vida de…", sino un verdadero encuentro con el Santo Padre, en el que este expone, con la lucidez y sencillez que le son características, los principios fundamentales de su magisterio.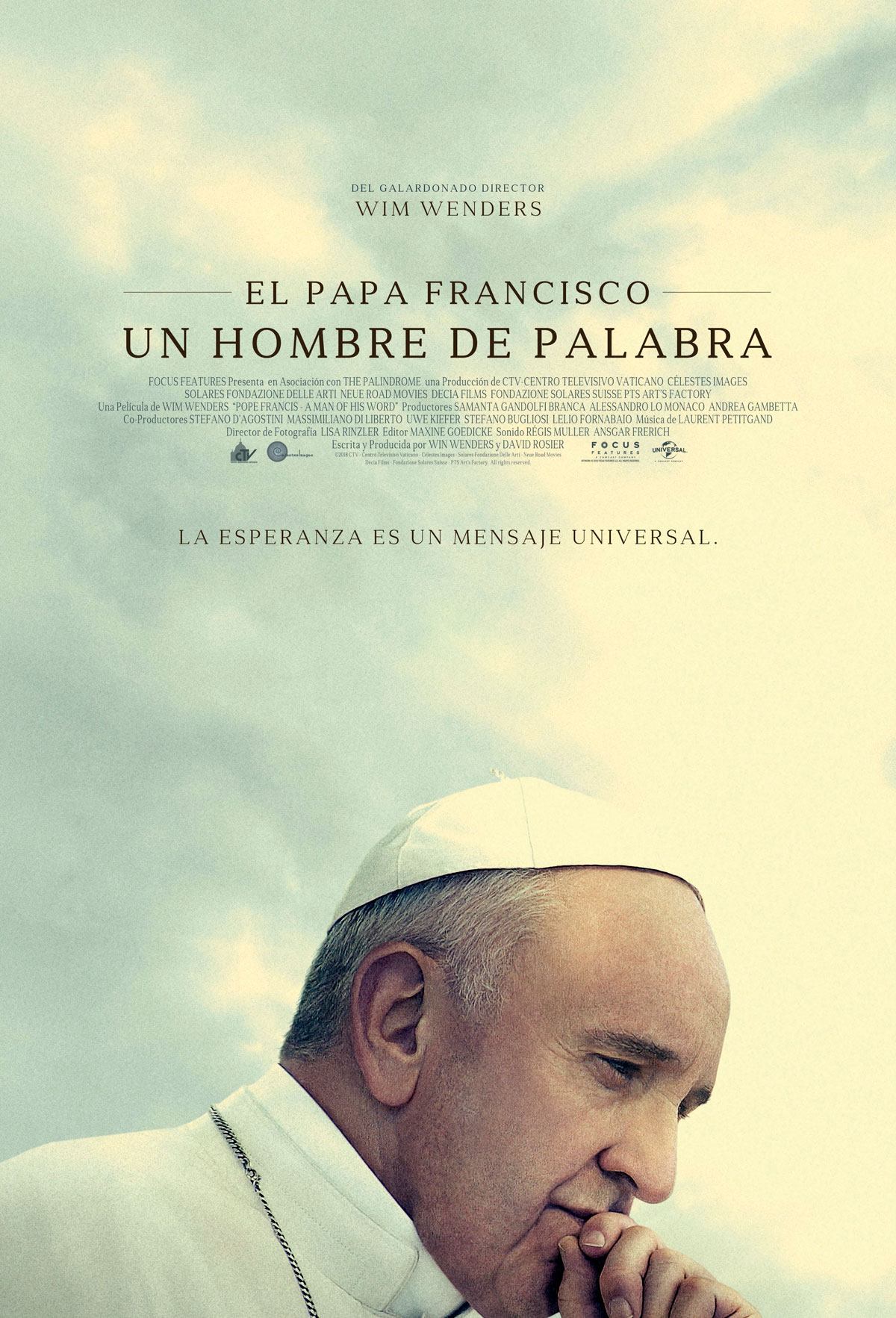 Para esta parte de la película, construida a partir de varias sesiones de entrevistas directas con el Papa, se filmó al Santo Padre mientras se proyectaban en el teleprompter los ojos del realizador, de modo que el Papa le hablaba al realizador mirando a la cámara y, a través de ella, al espectador. Se crea así una relación directa, casi íntima, entre entrevistado y público. Este puede seguir también al Papa en el humilde lavado de los pies a presidiarios y enfermos, en sus encantadoras conversaciones con escolares, en sus momentos de angustia ante el espectáculo terrible del desamparo de los migrantes en Lampedusa y la sobrecogedora crueldad de la Shoah, orada y meditada en un pequeño cubículo en Auschwitz.
Wenders visualiza la inspiración franciscana en el magisterio del Papa mediante escenificaciones de pasajes de la vida del santo, que van ilustrando puntos clave de la predicación del Santo Padre: la fidelidad al mensaje del Evangelio, el rechazo a la tentación del poder y el compromiso con el cuidado de la Tierra, casa de todos. La humildad, sabiduría y buen humor del Papa Francisco son ingredientes claves que cooperan para hacer que esta cinta pueda dejar un mensaje positivo y de muy amplia aceptación.
El Papa Francisco, un hombre de palabra / Pope Francis, a Man of His Word / Suiza-Italia-Francia-Alemania / 2018 / color, 96 minutos / Dirección: Wim Wenders / Participan: Papa Francisco, Recep Tayyip Erdogan, Angela Merkel, Joe Biden, Barack Obama, John Kerry, Shimon Peres, Vladimir Putin y Donald y Melania Trump, entre muchos otros.