SAN ANTONIO (CNS) – Respondan el llamado al discipulado misionero al abordar las necesidades de su Iglesia. Encuentren a los jóvenes donde estén y escúchenlos. Mejoren los recursos catequéticos y preparen a futuros líderes.
Estas fueron algunas de las estrategias discutidas por más de 800 delegados que representaron a 18 diócesis católicas en Texas, Oklahoma y Arkansas, durante su participación en un Encuentro bilingüe regional de tres días en San Antonio del 13 al 15 de abril. Las reuniones son parte del proceso llamado "Encuentro" que toma varios años para discernir las necesidades, aspiraciones y prácticas de fe de los 29.7 millones de católicos hispanos en los Estados Unidos. El reciente Encuentro comenzó en 2017 con encuentros a nivel parroquial, seguidos por encuentros diocesanos y ahora se encuentra en reuniones regionales.
Las reuniones regionales son la siguiente fase de los preparativos para el evento llamado Quinto Encuentro Nacional de la Iglesia Católica de los Estados Unidos, que se llevará a cabo del 20 al 23 de septiembre en Grapevine, Texas. Otros encuentros nacionales anteriores se llevaron a cabo en 1972, 1977, 1985 y 2000.
"¿A qué nos está llamando el Espíritu Santo en este momento como región?" preguntó Ken Johnson-Mondragón, coordinador de investigación del V Encuentro Nacional, mientras presentaba a los delegados en San Antonio un documento basado en hallazgos diocesanos. Él agregó que las conversaciones entre los participantes eran clave al usar el documento como herramienta de discernimiento.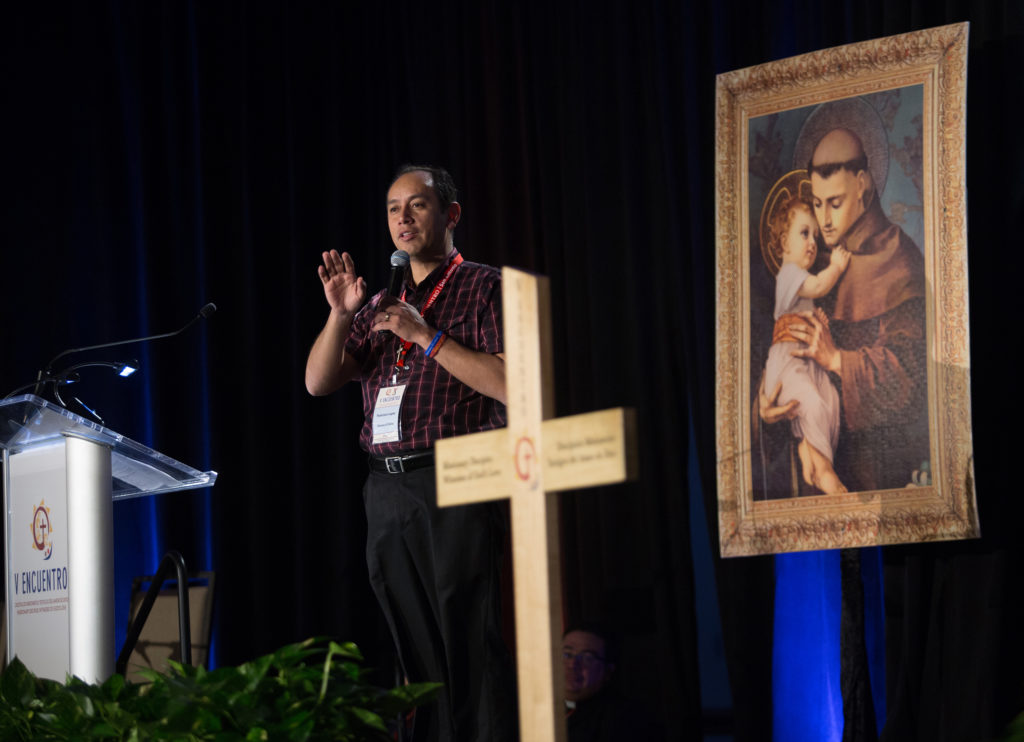 Los delegados hablaron sobre desafíos, oportunidades y prácticas que han dado fruto en áreas como evangelización y misión, formación en la fe y catequesis, ministerios juveniles, el ministerio familiar, inmigración y teología. Sus recomendaciones serán presentadas antes del Encuentro nacional en Grapevine.
Según el documento, los católicos hispanos constituyen 6 millones de los aproximadamente 8.4 millones de católicos que viven en la región episcopal de la Iglesia en Estados Unidos que incluye las diócesis Beaumont y Fort Worth, en Texas; Oklahoma City y Tulsa, en Oklahoma; y Little Rock, en Arkansas, han visto a su población hispana aumentar más del 100 por ciento entre 2006 y 2016.
"Hemos visto el crecimiento hispano en esta nuestra región. Y estamos Viendo las necesidades de nuestra comunidad dentro de la iglesia", dijo Francisco Lariz de Fort Worth, quien asistió al encuentro de la región con 40 miembros de su diócesis. "Esperamos que con nuestra aportación podamos  encontrar los mejores medios para suplir las necesidades de las nuevas generaciones y los que estamos aquí ahorita".
El Encuentro estuvo lleno de conversaciones abiertas, honestas y fructíferas en español e inglés, presentaciones bilingües y momentos para oración y alabanza. Más de 20 obispos de la región acompañaron a los delegados todo el fin de semana, y muchos participaron en el diálogo durante el evento.
Durante las discusiones, los delegados compartieron algunos de los frutos que han salido de otras reuniones: mayor participación, más recursos para el ministerio hispano y una apertura renovada para encontrar a Jesús en los más vulnerables.
"Los feligreses van más allá de sus zonas de confort y se toman el tiempo para escuchar a los necesitados", dijo Lily Morales, coordinadora del ministerio hispano de la Diócesis de Austin, Texas. Ella describió lo conmovidas que han estado las personas por el proceso de salir y encontrarse con personas en las periferias durante los encuentros parroquiales.
Una feligrés del grupo de encuentro de Morales se acercó a una mujer ciega y solo la escuchó. La feligrés se dio cuenta que la mujer estaba teniendo problemas financieros e hizo una rifa en su iglesia para ayudarle, dijo Morales. "Ella también la invitó a las sesiones. Esa persona estaba tan agradecida de que la iglesia se acercara a ella".
Inspirada por el proceso del quinto encuentro, Martha Peña, de la Diócesis de Little Rock, Arkansas, quien ha sido catequista durante más de 20 años y ahora ejerce el ministerio con los encarcelados, participó en visitas semanales a presos en las tres cárceles. También alentó a los feligreses de la Iglesia de San Eduardo a acercarse a los que están en la cárcel. "No podemos olvidarnos de ellos", dijo.
Archbishop Gustavo Garcia-Siller gives thanks to delegates, bishops, and regional team and all who helped in the planning of #VEncuentroR10 #VEncuentro pic.twitter.com/qrOoWRQC05

— ENAVE (@ENAHVE) April 15, 2018
El Arzobispo de San Antonio, Gustavo García-Siller, le dijo a Catholic News Service que el proceso del encuentro es para que cada parroquia participe a su manera.
"Tomamos la decisión de que la cultura del encuentro formará parte del plan pastoral (arquidiocesano), así que vamos a abrazar a más y más parroquias hasta que nuestras parroquias estén unidas por la 'Alegría del Evangelio' que es el corazón de todo el quinto encuentro", dijo. "El papa Francisco ha insistido en que ser misioneros no ocurre al final … Cuando te estás convirtiendo en un discípulo, ahí eres misionero".