Washington—. Más de 70 legisladores estadounidenses encabezados por Joseph Crowley, representante demócrata por el Distrito 14 del Bronx, en Nueva York, han exigido una explicación al Presidente del Senado, el republicano Paul Ryan, por su decisión de exigirle la renuncia al capellán Patrick Conroy, en un acto sin precedentes en la historia de ese órgano legislativo.
El padre Conroy, un sacerdote jesuita, ha servido como el capellán número 60 del Senado de los Estados Unidos desde 2011, cuando sustituyó al padre Daniel P. Coughlin, también sacerdote católico.
El padre Coughlin y el padre Conroy son los únicos dos católicos que han ocupado esta posición en más de 200 años, desde el 1 de mayo de 1789 en que inauguró este ministerio el reverendo William Linn, un pastor presbiteriano.
"Como me lo pedido, aquí le entrego mi renuncia como el decimosexto capellán de la Cámara de Representantes de los Estados Unidos", escribió el padre Conroy en una carta dirigida a Ryan y fechada el 15 de abril, una decisión que no se había hecho pública hasta ahora. Su renuncia se hace efectiva el próximo 24 de mayo.
Diferentes fuentes de ambos partidos confirmaron a The Hill que el padre Conroy fue forzado a renunciar bajo amenaza de que sería despedido.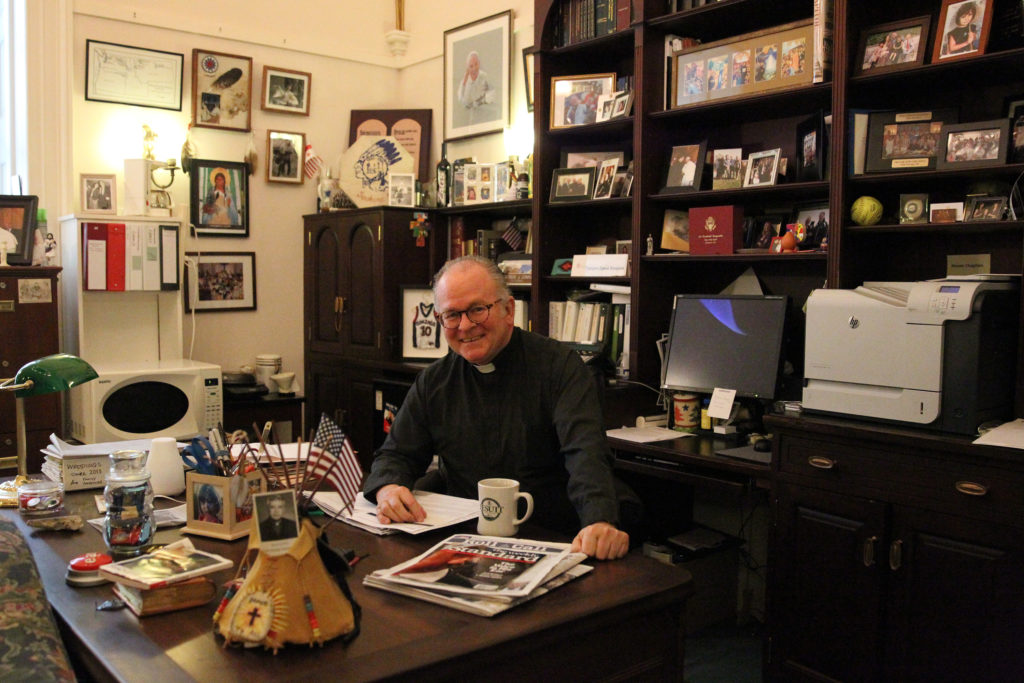 Entre las razone que se alegan para la decisión tomada por Ryan, quien es también católico, está una oración incómoda que dijera el padre Conroy el pasado 6 de noviembre, antes de la votación por la reforma impositiva en el Congreso:
"Que todos los miembros sean conscientes de que las instituciones y las estructuras de nuestra gran nación garanticen las oportunidades que han permitido a algunos lograr un gran éxito, mientras que otros continúan luchando", dijo el padre Conroy en ese momento. "Que sus esfuerzos en estos días garanticen que no hayan ganadores ni perdedores bajo las nuevas leyes fiscales, sino beneficios balanceados y compartidos por todos los estadounidenses".
Pero otros creen que pudiera haber una segunda razón, ya que muchos evangélicos republicanos en el Congreso se molestaron cuando el padre invitó recientemente a un líder musulmán a la oración inaugural. Ambos elementos pueden ser las gotas que colmaran la copa de los más conservadores dentro de la legislatura.
En medio de la controversia, los comentarios de Mark Walker, legislador republicano por Carolina del Norte, quien encabeza el grupo de trabajo para buscar reemplazo al capellán, le han echaron leña al fuego de la discordia.
Top House conservative: Next chaplain should have a family to better relate to lawmakers with spouses and children https://t.co/2KbBghNAi3 pic.twitter.com/XCI2k2XIBv

— The Hill (@thehill) April 27, 2018
El republicano reveló que entre los parámetros que considera debe cumplir el próximo capellán es "ser casado y tener hijos para que pueda ofrecer un mejor servicio pastoral". Un elemento que excluiría a los sacerdotes y religiosos católicos.
Para algunos analista, como el periodista Michael J. O'Loughlin, de la influyente revista jesuita America Magazine, este argumento ha indignado a la mayoría de católicos del país "por qué algunos lo ven como una conspiración anticatólica y otros como ignorancia sobre el ministerio pastoral".
A GOP lawmaker said the next House chaplain should be married with kids to provide better pastoral care. Here's why some see in that an anti-Catholic bias and others, ignorance about pastoral ministry: https://t.co/Jzuouyd89G

— Michael J. O'Loughlin (@MikeOLoughlin) April 27, 2018