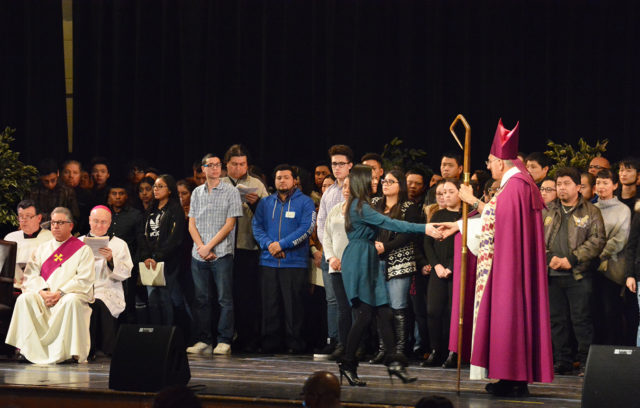 Kemas Newman sonrió mientras le estrechaba la mano al obispo de Brooklyn, Mons. Nicholas DiMarzio, durante el Rito de Elección, el primer domingo de Cuaresma. El joven de 26 años, miembro de la parroquia Nuestra Señora de la Luz (Our Lady of Light), en St. Albans, fue uno de los 443 adultos que participaron en la ceremonia diocesana en la antigua escuela secundaria Bishop Ford H.S., en Park Slope, el pasado domingo 18 de febrero.
Los catecúmenos que no han sido bautizados en ninguna tradición cristiana, asisten al Rito de Iniciación Cristiana para Adultos (RICA) y serán recibidos como nuevos miembros de la Iglesia en sus parroquias de origen durante la Vigilia Pascual, el 31 de marzo.
Las ceremonias para los candidatos — aquellos que han sido bautizados en otra fe cristiana— que celebran el Rito de Llamado a la Conversión Continua y declaran su deseo de unirse en plena comunión con la Iglesia Católica, se llevaron a cabo el 25 de febrero.
El Rito de Elección inicia un período de preparación espiritual más intensa para aquellos que se preparan para ser parte de la Iglesia. Durante las ceremonias del primer domingo de Cuaresma, cada uno de los catecúmenos fue llamado por su nombre y saludado personalmente por Mons. DiMarzio. Sus nombres fueron presentados al Obispo —junto a sus padrinos para su aprobación— y él los aceptó oficialmente para que recibieran los sacramentos esta Pascua.
Los catecúmenos de este año representan 102 parroquias diocesanas, y la mayoría proviene de las comunidades de inmigrantes de Nuestra Señora del Perpetuo Socorro (Our Lady of Perpetual Help), en Sunset Park, y San Juan María Vianney (St. John Vianney) y San Miguel (St. Michael), ambas en Flushing.
Aunque el inglés era el primer idioma de algunos de los participantes, también había muchos cuya primera lengua es el español, el mandarín, cantonés o el coreano.
"Es una celebración tan hermosa", dijo Joann Roa, directora diocesana de formación en la fe para adultos y coordinadora del RICA. "Para mí, es impresionante ver a tantas personas de cualquier clase y condición social". Poder estrechar la mano del Obispo fue un momento inolvidable para Kemar Newman, quien se formó en la religión pentecostal, pero no tuvo buenas experiencias en las iglesias a las que asistió.
Durante muchos años, "sentí un llamado a la fe católica", dijo, "pero lo ignoré".
La primera llamada la sintió durante un entrenamiento militar en el Cuerpo de Marines de Estados Unidos. Y otra vez, mientras pasaba frente a una iglesia católica cerca de su casa. La tercera vez fue una mañana cualquiera, y fue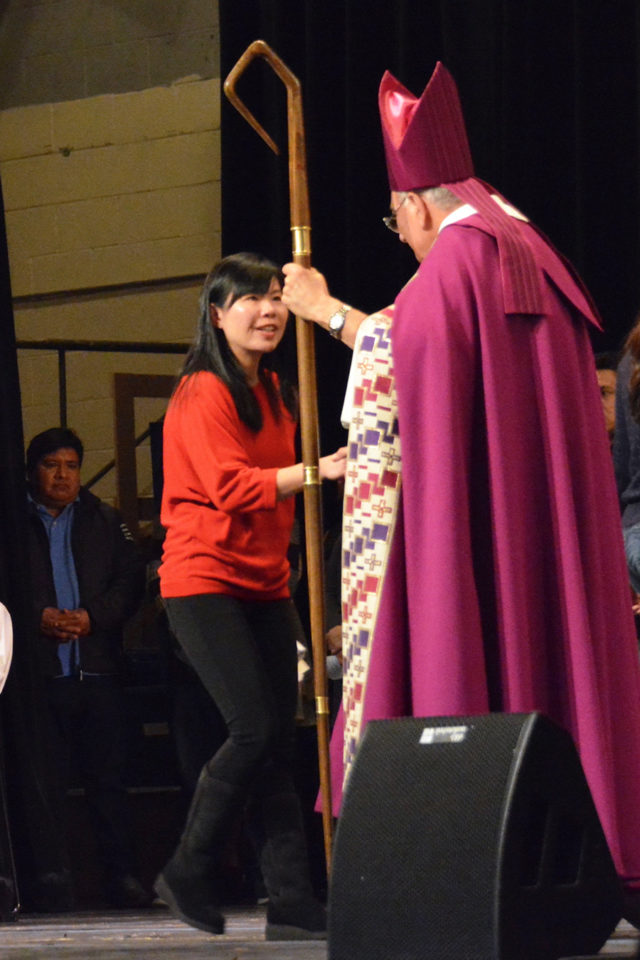 entonces cuando decidió cruzar la puerta que Jesús le había abierto hacía años. Llamó a su iglesia local, Pascual Baylón (St. Pascal Baylon), y comenzó a asistir a las clases del RICA.
Y no solo tiene intención de entrar completamente en la vida de la Iglesia para su propio beneficio espiritual, sino también para el de sus hijas gemelas de dos años.
"Necesito que vean que existe un poder superior y tengan fe", dijo.
Un importante paso
Dirigiéndose a los catecúmenos, el obispo expresó: "Como Iglesia en Brooklyn y Queens, hoy nos entusiasma ver cuán importante es este paso en sus vidas y cuánto aportarán a la fe de nuestra Iglesia unida". En su charla, habló sobre el compromiso que cada uno de los bautizados hará con Dios en la Vigilia Pascual.
"Así como las aguas del diluvio arrastraron a todos los que habían pecado, también todos los pecados de sus vidas serán borrados con las aguas del bautismo", dijo.
Luego agregó que no caer en la tentación se convierte en una batalla espiritual continua, y advirtió a los elegidos las cuatro D del diablo: decepción, desunión, diversión y desaliento. Estas fueron las mismas tentaciones que Jesús sufrió en el desierto, por lo que el obispo explicó que así como Jesús las venció, también podíamos hacerlo todos los que confiamos en el poder de Dios.
"Aunque la tentación y el pecado abundan, la gracia es mucho más poderosa, y la gracia de Dios que recibirás en el bautismo te salvará de los pecados que vendrán", dijo.
La gracia de Dios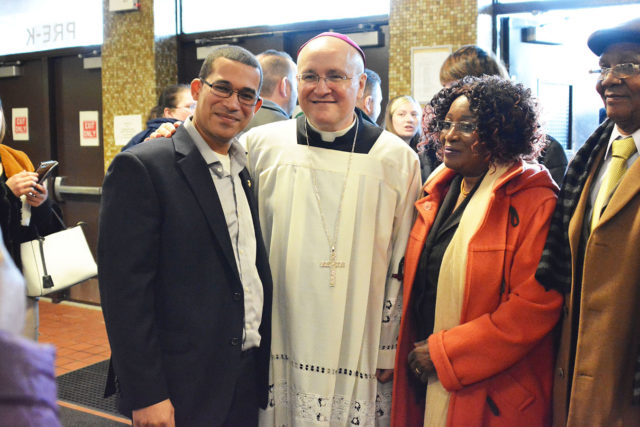 La gracia de Dios fue la que acercó a la parroquia de Todos los Santos (All Saints), en Williamsburg, a Yajaira Brown y su esposo Timothy, quien ha pasado muchos meses preparándose para recibir los sacramentos, pero Yajaira lleva más de una década orando para que él diera este paso en su vida de fe.
"Creo en el poder de la oración", confesó ella. "Cuando rezas, solo necesitas esperar. Cuando llegue el momento, Él hará el resto".
Casados por lo civil durante 12 años, la pareja espera convalidar su matrimonio por la iglesia este otoño. "Gracias a Dios y a la Virgen María, ahora estamos avanzando y eso es algo maravilloso", dijo Yajaira.
"Es fantástico", agregó su hija, Emma, quien se está preparando para recibir la Primera Comunión este año. Timothy dice que estudia con su hija, y reza con ella, con su esposa y su hijo todas las noches. Ahora la familia va junta a la iglesia todos los domingos. Formado en la fe cristiana, Timothy dijo que tenía intención de ser bautizado en algún momento de su vida; y que cuando su esposa se acercó a él con la idea, él supo que era "una señal de Dios".
"Una relación plena con Dios"
Mientras tanto, en Mill Basin, la recién casada Carol Kauffman dice que todo el crédito es de su esposo Joseph, por haberla ayudado a dar los pasos necesarios para lograr "una relación plena con Dios".
"Para mí este ha sido un viaje sin fin, algo que he querido hacer desde hace mucho, mucho tiempo", dijo Carol. "Me he desviado muchas veces del camino y sus responsabilidades, y nunca tuve el compromiso o el enfoque, o francamente el privilegio de hacer esto".
Al crecer en un hogar judío-cristiano, su familia celebraba las festividades sagradas de ambas religiones, aunque a veces su madre la llevaba a la iglesia en las vacaciones.
"Allí siempre sentí una conexión espiritual, pero no era lo suficientemente fuerte", dijo.
Cuando se independizó, a los 19 años, comenzó a tener problemas para ir a la escuela, estudiar una carrera y llegar a fin de mes. Durante ese tiempo, Carol recuerda: "Sabía que Dios era real y que estaba allí, pero nunca me centré en él. Solo me enfoqué en sobrevivir". Cuando conoció a Joseph, ya estaba decidida a bautizarse.
Y el apoyo de su esposo ha sido inquebrantable durante este tiempo. Él asiste a las clases del RICA con ella y van juntos a la misa dominical en su parroquia, San Bernardo (St. Bernard).
"Este es un regalo que estoy recibiendo", dijo sobre su creciente fe. "Quiero continuar y le pido a Dios que me mantenga en el camino correcto".