CIUDAD DE MÉXICO (Por David Agren/CNS)—. La conferencia de obispos mexicanos cuestionó los detalles de un acuerdo que, según funcionarios de México, dicen que fortalecerá su frontera sur con Guatemala e impedirá el paso de los migrantes que huyen de la pobreza, la violencia y hambre.
"Externamos nuestra preocupación por la falta de acogida verdaderamente humanitaria a nuestros hermanos migrantes que refleje nuestras convicciones en materia de reconocimiento y protección de los derechos de todos los seres humanos por igual", dijeron los obispos en una declaración del 10 de junio.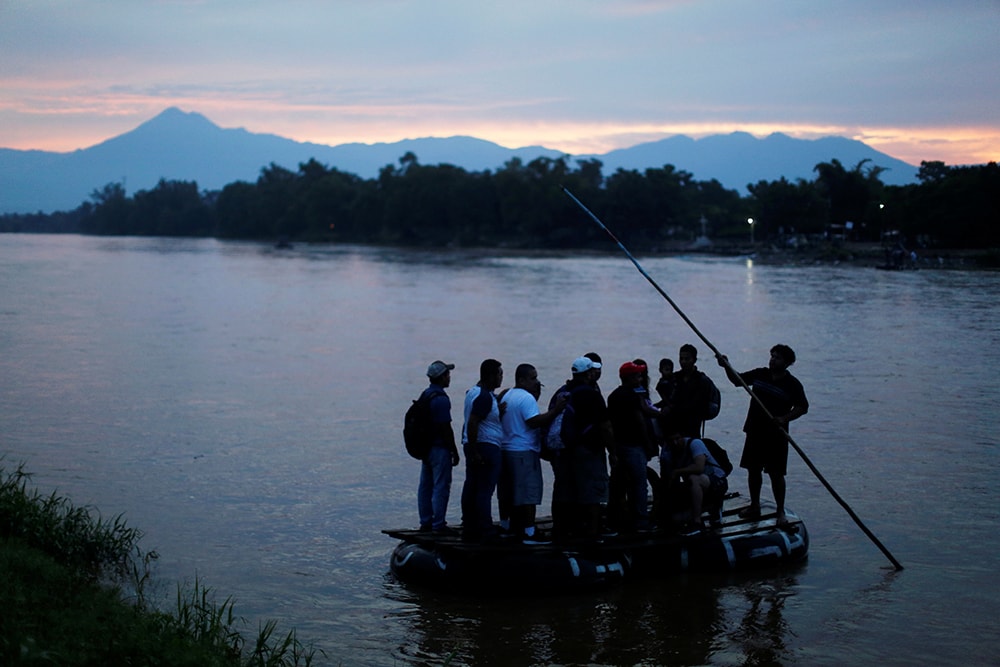 "Nuestros hermanos migrantes nunca deben ser moneda de cambio. Ninguna negociación debe colocarse por encima de lo que la Iglesia y la sociedad civil han defendido por años: la no criminalización de los migrantes ni de los defensores de derechos humanos", dijo la declaración. "Si hemos rechazado como mexicanos la construcción de un muro, no podemos convertirnos nosotros mismos en ese muro", que detendría a los migrantes al sur de México.
México y los Estados Unidos llegaron a un acuerdo el 7 de junio, después de que el presidente de los Estados Unidos Donald Trump amenazara con añadir 5 por ciento en las importaciones de México y un aumento de aranceles hasta que cesara la migración a través de México.
En el acuerdo, México accedió a enviar 6,000 miembros de su recién constituida policía militar para vigilar su porosa frontera con Guatemala. También accedió a recibir a más solicitantes de asilo, que tendrían que esperar en las ciudades fronterizas de México hasta que sus casos se escuchen en tribunales de Estados Unidos.
I would like to thank the President of Mexico, Andres Manuel Lopez Obrador, and his foreign minister, Marcelo Ebrard, together with all of the many representatives of both the United States and Mexico, for working so long and hard to get our agreement on immigration completed!

— Donald J. Trump (@realDonaldTrump) June 8, 2019
Los oficiales mexicanos celebraron el acuerdo, diciendo que los aranceles habrían minado el crecimiento económico y causado la pérdida de 1.2 millones de trabajos, en el momento en que la economía del país estaba mostrando signos de desaceleración.
El 10 de junio, el ministro de exteriores, Marcelo Ebrard dijo que el acuerdo sería revisado en 45 días y, si no funcionaba, se buscaría un acuerdo regional que podría incluir a países como Brasil, Panamá, y Guatemala. A menudo llegan migrantes de África y Asia a Brasil y se dirigen hacia el norte, mientras que los cubanos que escapan de la isla van primero a Panamá, y luego tratan de llegar a los Estados Unidos y los migrantes que salen de Centro América deben primero atravesar Guatemala.
Ebrard dijo también que México está intentando un plan de invertir billones de dólares de ayuda al desarrollo en Centro América para tratar las causas de la migración.
Los obispos de México acogieron con gusto los planes de desarrollo de Centro América, pero expresaron preocupación sobre el uso de la guardia nacional, que fue creada para pacificar el país, pero fue enviada a detener a migrantes.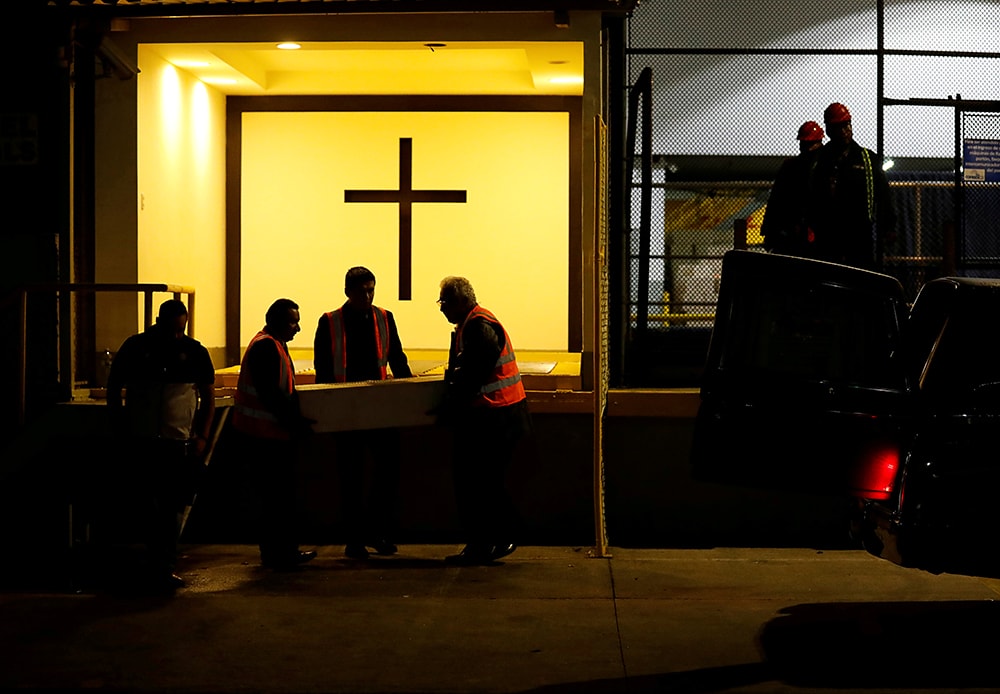 "Desplegar seis mil efectivos de la Guardia Nacional en la frontera sur no es una solución de raíz que atienda a las verdaderas causas del fenómeno migratorio. El combate a la pobreza y a la desigualdad en México y en Centro América pareciera quedar sustituido por el temor ante el otro, nuestro hermano", dijo la declaración de los obispos.
Los obispos también expresaron preocupaciones sobre la expansión del programa "Quédate en México" que hace a los que buscan asilo esperar en las ciudades fronterizas de México hasta que sus solicitudes sean procesadas.
Sobre el plan dijeron: "miles de centroamericanos, esperarán una resolución de su situación migratoria, exponiéndoles a graves riesgos en las ciudades fronterizas mexicanas e impidiendo su pleno acceso a la asistencia legal. Como miembros de la familia humana no podemos ser indiferentes al dolor que muchos de ellos viven y que reclama nuestra ayuda humanitaria y el respeto irrestricto a sus derechos humanos".
Otros líderes eclesiales en Centro América también expresaron desilusión sobre el acuerdo.
"Me duele mucho que se les trate así. Es una lástima que se les vea como criminales y que se les detenga aun antes de llegar al país de destino (Estados Unidos)", dijo a reporteros el arzobispo José Luis Escobar Alas de San Salvador, el 9 de junio, según la agencia de noticias The Associated Press.
"No frena la migración, porque de todos modos los migrantes van a pasar; no es efectivo", añadió. "Quisiera que estos países" — México y los Estados Unidos– "nos ayudaran a superar estos problemas que tenemos en Centro América y de ese modo nuestros hermanos no tendrían que emigrar".
El arzobispo Escobar expresó amargura sobre el hecho de que el presidente mexicano Andrés Manuel López Obrador abandonó una promesa de campaña de "no hacer el trabajo sucio" de otros países sobre el tema de la migración.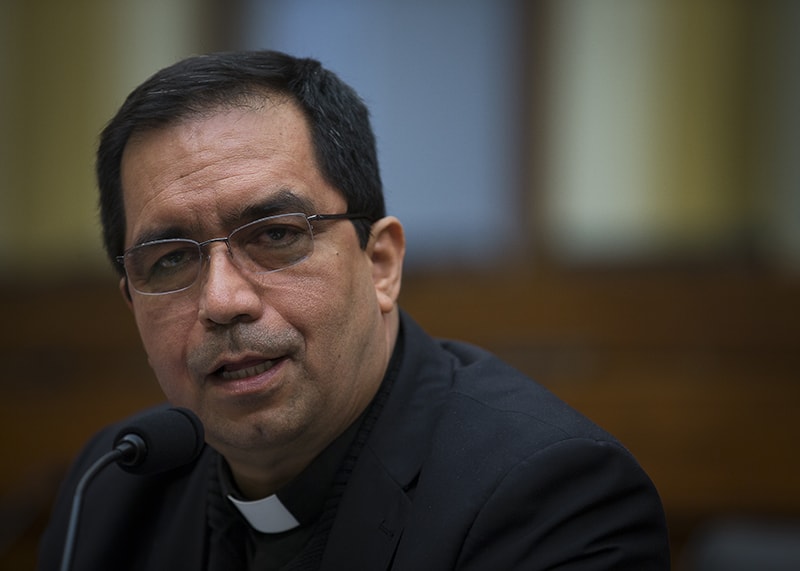 "Es triste que México, que había mostrado una mano extendida – me refiero particularmente al señor Presidente (Andrés Manuel) López Obrador, que lo hemos visto actuando con tanta humanidad- y ahora pareciera que le doblaron el brazo cuando lo presionaron con impuestos".
López Obrador asumió el poder en diciembre de 2018 y comenzó a conceder visas humanitarias a los migrantes, las cuales les permitían permanecer en México durante un año, viajar libremente y obtener servicios sociales.
Sin embargo, los migrantes utilizaron las visas para atravesar el país rápidamente y llegar a la frontera con Estados Unidos, mostrando poco interés en México, según los observadores.
"Los primeros dos meses, sí hubo buenas intenciones, pero muy mal administradas", dijo Alberto Xicoténcatl, director del refugio diocesano de migrantes de la ciudad norteña de Saltillo.
Las visas atrajeron a la gente, dijo el Arzobispo Escobar, "Sí, dio mucho a la entrada de personas, sin embargo también hay que pensar en la situación en Centroamérica, en la crisis política, es decir: no únicamente es un tema de que la gente se dio cuenta que hay una visa humanitaria, sino más bien es una (combinación) de situaciones que se suman".
Unos 132,000 migrantes fueron detenidos en la frontera con los Estados Unidos en mayo — cifras que no se veían desde 2006 — según el Control de Fronteras y Aduanas de Estados Unidos. Los activistas que trabajan con migrantes de Centro América no ven señales de que el flujo vaya a disminuir.
"Bajo condiciones normales atendemos de 2,500 a 3,000 (personas) al año", dijo Carlos López, coordinador en el refugio de migrantes Scalabriniano de la Ciudad de Guatemala. "En lo que va de año, hemos tenido 7,300", dijo.