SURFSIDE, Florida — El padre Juan Sosa pasó el miércoles un tiempo con el pariente de una familia desaparecida por el colapso del condominio Champlain Towers en Surfside, Florida. Ella estaba llorando. Se suponía que la familia estuviera celebrando el cumpleaños de uno de los niños.
Fue uno de los muchos momentos que Sosa, el párroco de la iglesia San José, a una cuadra y media del condominio, ha tenido durante la semana pasada con familiares cuyos seres queridos están desaparecidos. Más de una semana después del colapso, el panorama es sombrío.
"He pasado del shock a la tristeza", dijo Sosa a Nuestra Voz.
A causa del colapso del condominio de 12 pisos han muerto al menos a 18 personas y 145 personas seguían desaparecidas hasta el jueves 1 de julio por la tarde. A pesar de los incansables esfuerzos de cientos de trabajadores de búsqueda y rescate, nadie ha sido rescatado desde las primeras horas después del colapso de la semana pasada.
La causa exacta del desastre aún está bajo investigación.
Los cuerpos de dos niños fueron encontrados el miércoles. Los niños, Lucía Guara, de 10 años, y su hermana Emma Guara, de cuatro, eran parte de la familia de la parroquia San José, dijo Sosa. Otros feligreses de St. Joseph se encuentran entre los desaparecidos.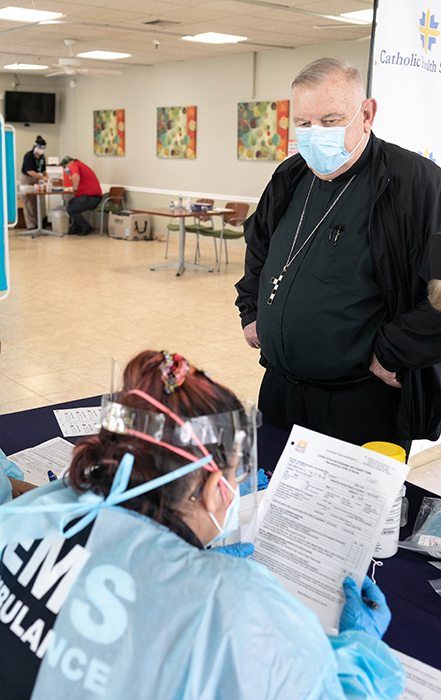 Hablando con Nuestra Voz el jueves, Mons. Thomas Wenski, arzobispo de Miami, explicaba que la variedad étnica y religiosa de los ocupantes de la torre del condominio reflejan la del sur de Florida.
"Gente de América Latina, migrantes veraniegos provenientes del norte, jóvenes, personas de edad. Ese condominio es todo un microcosmos de nuestra sociedad del sur de Florida", dijo Mons. Wenski. "Creo que eso también explica por qué esta tragedia ha afectado a tanta gente tan profundamente y de una manera tan visceral".
Esta semana Mons. Wenski ha hablado con personas que han perdido a seres queridos y amigos, y párrocos que han perdido feligreses. Señaló que la Iglesia Católica Epifanía en Coral Gables era otra iglesia arquidiocesana que posiblemente perdió feligreses.
"Ha tocado a todos", dijo Mons. Wenski. "Volvemos a esa eterna pregunta que plantea el Libro de Job: ¿Por qué le suceden cosas malas a la gente buena? Y no hay respuestas fáciles".
Desde el principio, la arquidiócesis ha estado en primera línea ofreciendo apoyo espiritual a familias, socorristas e incluso a los medios de comunicación.
El padre Sosa y otros clérigos católicos, así como capellanes y rabinos, pasan parte del día en lo que se llama el centro de reunificación. Es el lugar donde se reúnen los miembros de la familia y donde se les notifica si se ha encontrado a un ser querido.
"Nos ponemos a su disposición. Simplemente vamos y estamos caminando por el lugar por si nos necesitan, queremos ser respetuosos con la privacidad de estos familiares", dijo el padre Sosa. "No estamos allí imponiéndonos, pero simplemente por estar allí varias personas siempre se nos acercan".
Mary Ross Agosta, directora de comunicaciones de la Arquidiócesis de Miami, le dijo a Nuestra Voz que ha visto a personas todos los días acercarse a los sacerdotes, tomarles de las manos y decirles: "Por favor, recen por mí, por favor recen por mi familia, por favor recen por mi madre que está desaparecida".
Agosta dijo que las agencias sin fines de lucro (Caridades Católicas, el Ejército de Salvación, la Agencia Federal para el Manejo de Emergencias) también están disponibles en el centro de reunificación, y la oficina del gobernador ayuda a brindar servicios como asesoramiento en caso de duelo y vivienda temporal.
La arquidiócesis también tiene sacerdotes en el lugar de los escombros que sirven como capellanes de los departamentos de bomberos y policía mientras trabajan en turnos de doce horas.
"Nuestros capellanes están ahí para consolarlos, apoyarlos emocionalmente, orar por ellos, orar con ellos", dijo Agosta. "El miércoles encontraron dos niños y días antes habían encontrado juguetes. Además, muchos de estos bomberos son jóvenes y tienen sus propias familias, por lo que es devastador para ellos".
Today I visited the Champlain Tower South with Cardinal O'Malley who visited me earlier. We were able to talk to many of the first responders working so hard in difficult circumstances Also with me were several priests who continue to offer pastoral care at the site pic.twitter.com/On2AKG86JW

— Thomas Wenski (@ThomasWenski) July 2, 2021
En el estacionamiento de la iglesia San José es donde se han instalado muchos de los medios de comunicación nacionales e internacionales, por lo que hay sacerdotes que rotan para ofrecerles apoyo. El miércoles, Agosta obtuvo credenciales para que tres sacerdotes ingresaran al área principal de medios para ofrecer a las personas apoyo pastoral también.
"Está lloviendo a cántaros y los sacerdotes simplemente caminaron por el barro hablándoles lentamente", dijo Agosta. "Tres reporteros se echaron a llorar cuando vieron a los sacerdotes. Unos piden oraciones; otros piden bendiciones; algunos solo quieren tomar la mano del sacerdote y expresar lo horrible que es todo esto".
Si hay un rayo de esperanza en medio de toda la tristeza y la tragedia, Mons. Wenski dice que es la resistencia de la sociedad civil y la voluntad de unirse.
Señala la reunión del jueves entre el presidente demócrata Joe Biden, el gobernador republicano de Florida, Ron DeSantis, y la alcaldesa demócrata de Miami-Dade, Daniella Levine Cava. En la reunión, DeSantis agradeció al presidente por reconocer la gravedad del colapso desde el primer día.
"Tenemos al gobierno federal, el gobierno estatal, los gobiernos municipales de los condados locales trabajando juntos y trabajando juntos de manera muy armoniosa a pesar de sus diferencias políticas bastante marcadas", dijo Mons. Wenski. "Esa es una señal esperanzadora de que los estadounidenses son lo suficientemente resistentes como para que aún podamos unirnos para promover el bien común".