El obispo auxiliar James Massa prometió ser mentor y faro para los seminaristas, ya que fue instalado oficialmente como rector del Seminario y Colegio St. Joseph en una misa especial el pasado 13 de septiembre.
"Espero estrechar la relación entre los seminaristas y el clero local. El sacerdocio está basado en las relaciones. En primer lugar, la relación con Jesucristo nuestro salvador. También está la relación con el clero, los diáconos, los religiosos consagrados y, por supuesto, con la comunidad", dijo el obispo Massa a The Tablet en una entrevista antes de comenzar la misa.
"Es muy importante construir una relación sólida con la comunidad", agregó.
La misa de instalación —donde el obispo Massa leyó un juramento y firmó un documento oficial— tuvo lugar en la capilla del seminario, en el pintoresco barrio de Dunwoodie, en Yonkers.
El obispo Massa fue nombrado rector del Seminario St. Joseph por el cardenal Timothy Dolan a mediados de julio. Mons. Massa le sucede a Mons. Peter Vaccari, quien sirvió de 2011 a 2020 y ahora es presidente de la Asociación Católica para el Bienestar del Cercano Oriente (Catholic Near East Welfare Association).
El seminario, que fue fundado en 1896, forma a futuros sacerdotes para la Arquidiócesis de Nueva York, así como de las Diócesis de Brooklyn y Rockville Center. El obispo Massa es el vigésimo segundo rector en los 124 años de historia del seminario, y el quinto obispo en ocupar el cargo.
El nombramiento del obispo Massa fue realizado por el cardenal con el apoyo de Mons. Nicholas DiMarzio, obispo de la Diócesis de Brooklyn, y Mons. John Barres, obispo de la Diócesis de Rockville Center. El cardenal Dolan, Mons. DiMarzio y Mons. Barres componen el Consejo de San Carlos Borromeo, que supervisa el sistema de seminarios compartido por sus tres diócesis. Los tres estuvieron presentes en la misa.
Antes de la instalación oficial, el obispo Massa ya estaba trabajando en el seminario desde mediados de julio preparándose para el nuevo semestre y dar la bienvenida a los estudiantes que comenzaron hace unas semanas. En una entrevista reciente con The Tablet, monseñor dijo que quería seguir ayudando a los seminaristas a adaptarse a las condiciones provocadas por la pandemia del COVID-19, incluido el distanciamiento social y el uso de mascarillas.
Además de formar a los seminaristas para entrar a la vida sacerdotal, el Seminario St. Joseph también educa a diáconos permanentes y laicos. El obispo DiMarzio dijo que los líderes religiosos quieren asegurarse de que las instalaciones estén abiertas a una amplia variedad de estudiantes, incluidas personas mayores y estudiantes nacidos en el extranjero. "Queremos asegurarnos de ofrecer una educación universal", dijo.
El obispo Massa es obispo auxiliar de la Diócesis de Brooklyn y tiene experiencia en educación, algo que debería ser un instrumento valioso mientras trabaja para fortalecer el Seminario St. Joseph y guiar a los hombres al sacerdocio para enfrentar los desafíos de la Iglesia Católica en el siglo XXI.
El Seminario St. Joseph no es nuevo para Mons. Massa. En 2011, coordinó una fusión que unió a la Arquidiócesis de Nueva York y las Diócesis de Brooklyn y Rockville Center para formar un programa único de estudios de posgrado en formación sacerdotal en St. Joseph. En esta facultad se desempeñó desde 2012 hasta 2015. También es el ex vicario de educación de la Diócesis de Brooklyn.
"Ya viene bien preparado para esta maravillosa tarea", reconoció Mons. DiMarzio.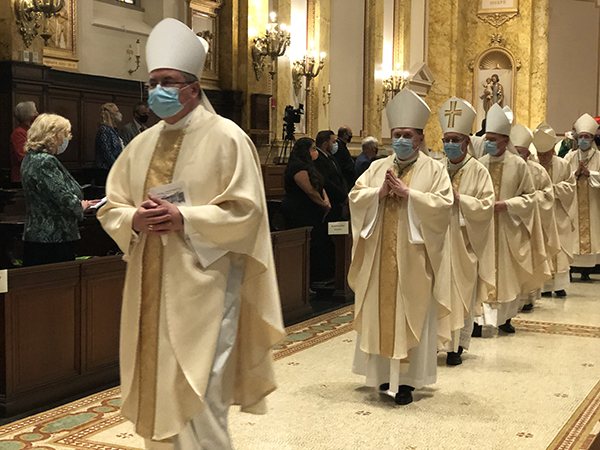 La elección del obispo Massa como rector fue fácil, según el cardenal Dolan. "Si un grupo de personas se sentara a describir las cualidades que les gustaría encontrar en el rector del seminario: intimidad espiritual con el arte sagrado de la formación sacerdotal, un hombre con experiencia, un hombre que ama su sacerdocio y tiene una inmensa experiencia pastoral… si pones todas estas características en una computadora, adivinen qué nombre aparecería: James Massa", dijo el cardenal.
Los seminaristas están ansiosos por estudiar bajo la tutela del obispo Massa mientras emprenden su aventura hacia el sacerdocio. Muchos de ellos elogiaron su humildad.
"Tiene los pies en la tierra, es muy humilde, cariñoso y espiritual. Y esas cualidades son muy buenas para nuestros seminaristas", dijo Tobechukwu Offiah de la Diócesis de Brooklyn.
"Es muy amable, un tipo agradable. Tiene los pies en la tierra y es muy accesible", dijo el seminarista Jozef Ukaj de la Arquidiócesis de Nueva York.
Juan Herrera, seminarista de la Diócesis de Brooklyn, dijo que admiraba la amabilidad del obispo Massa y "la manera en que nos habla", de una forma humilde y sin pretensiones. "Es una bendición tenerlo aquí como rector", dijo.