ROMA—. Mons. Nicholas DiMarzio, obispo de Brooklyn y Queens, encabezó un grupo de líderes católicos y budistas de Brooklyn, Chicago y Los Ángeles, en una reunión con el papa Francisco el 12 de septiembre. La delegación presentó al Santo Padre proyectos sostenibles que proporcionarán viviendas asequibles para atender a poblaciones vulnerables, como adultos mayores y desamparados.
El grupo, que incluye representantes de las Caridades Católicas de Brooklyn y Queens y Enterprise Community Partners, se llama Dialogue of Fraternity (Diálogo de Fraternidad). Hace tres años, el papa Francisco les encargó "plantar semillas juntos". Inspirado por el compromiso del Santo Padre de ayudar a los pobres y conservar el medioambiente, el grupo decidió construir Viviendas Ecológicas Asequibles en sus ciudades auspiciadas por Dialogue of Fraternity.
Este tipo de colaboración es algo que Mons. DiMarzio dice que quiere extender. "El diálogo interreligioso es bastante difícil en todo el mundo. En Estados Unidos podemos trabajar juntos, podemos colaborar, podemos convertirnos en un modelo para el resto del mundo. Mostrarles cómo las religiones pueden trabajar juntas en el beneficio de la población general", dijo.
Como parte de este proyecto, Catholic Charities Brooklyn and Queens está preparando el desarrollo de una residencia asequible para personas de la tercera edad con más de 100 unidades que incluye servicios sociales como un centro para personas mayores en la planta baja. La nueva instalación será un edificio ecológico de vanguardia diseñado para personas mayores con certificación Aging in Place y tecnologías sostenibles. Hasta el momento, la ubicación exacta no ha sido determinada.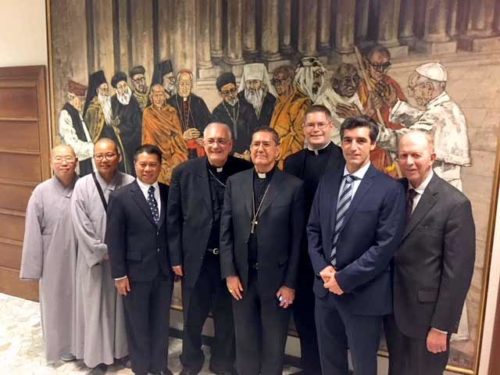 "Nuestro encuentro con el Papa Francisco destacó tres aspectos importantes en los que esta delegación ha estado trabajando: uno, la necesidad de viviendas asequibles para personas mayores y sin hogar, dos, la importancia de la construcción sostenible como lo destaca Laudato Si', la encíclica del Papa sobre el medio ambiente, y tres, la importancia de la colaboración entre los católicos con los líderes de otras religiones, en este caso, los budistas", explicó el padre Patrick Keating, director ejecutivo adjunto de Catholic Charities Brooklyn and Queens.
"Estoy muy orgulloso de mi propio proyecto en Brooklyn y Queens porque, nos preparamos para el futuro reconociendo que enfrentamos lo que llaman un tsunami de personas mayores", dijo el Obispo DiMarzio. "Los baby boomers están llegando a una edad adulta viviendo en la ciudad. Y van necesitar más viviendas, vivienda de apoyo y vivienda subsidiada".
Las Caridades Católicas de Brooklyn y Queens es el mayor proveedor de viviendas asequibles para personas mayores en la ciudad de Nueva York con 25 residencias, pero eso no es suficiente para la demanda. Una encuesta reciente de 277 proveedores de vivienda para personas mayores con sede en la ciudad de Nueva York encontró que más de 200,000 adultos mayores estaban en listas de espera para este tipo de vivienda.