Click here to Read this article in English
ROMA—. Después de días de especulaciones sobre cuándo el liderazgo de la conferencia de obispos de Estados Unidos se reuniría con el Papa Francisco con el objetivo de diseñar un plan para investigar el escándalo que rodea al excardenal Theodore McCarrick y la causa de que tardara tanto en aplicársele una condena, el Vaticano anunció el martes por la noche que el encuentro tendrá lugar este jueves 13 de septiembre.
Un breve comunicado del vocero del Vaticano, Greg Burke, indicó que el Papa Francisco recibirá al cardenal Daniel DiNardo, arzobispo de Galveston-Houston, y presidente de la conferencia episcopal de los Estados Unidos (USCCB), junto con el arzobispo José Gómez de Los Ángeles, vicepresidente de la USCCB; Mons.Brian Bransfield, secretario de la conferencia; y el cardenal Sean O'Malley de Boston, presidente de la Comisión Pontificia para la Protección de Menores.
Notablemente, la declaración de Burke no hace ninguna referencia al asunto que se tratará en dicho encuentro del jueves, que está programado para el mediodía hora de Roma (6:00 a.m. en la costa este).
Sin embargo, está claro que los prelados de EE.UU. querían obtener la aprobación de Francis en un plan para una investigación de McCarrick desde el 16 de agosto, hace casi un mes, cuando DiNardo emitió una declaración en ese sentido.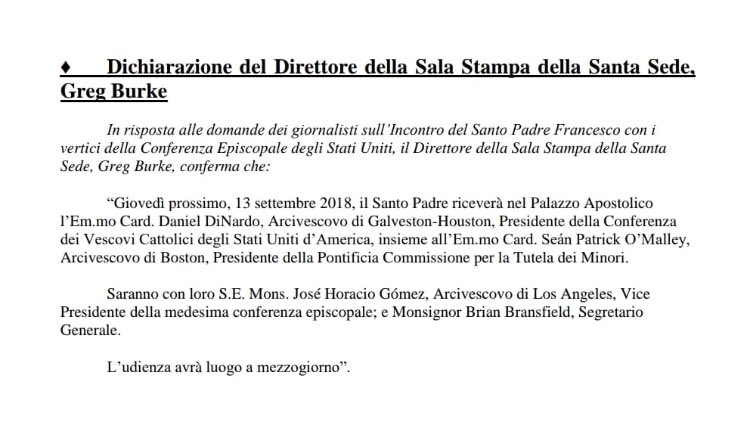 Esa declaración se produjo apenas dos días después de la publicación de un informe del gran jurado de Pensilvania que apuntaba a más de 300 sacerdotes depredadores y más de 1,000 víctimas infantiles, en seis diócesis en un lapso de 70 años.
También tres semanas después de que el Papa Francisco aceptara la renuncia de McCarrick del Colegio de Cardenales, un paso extremadamente raro, después de la acusación de haber abusado sexualmente de un monaguillo menor de edad. En los debates que ha provocado, se hace evidente que los rumores sobre la mala conducta de McCarrick con seminaristas y sacerdotes jóvenes habían circulado durante bastante tiempo, pero no por ello impedían su ascenso dentro de la jerarquía la Iglesia.
Específicamente, DiNardo dijo en la declaración del 16 de agosto que los obispos tienen la intención de proponer una "Visita Apostólica", lo que significaría abrir una investigación oficial del Vaticano en la que uno o más "enviados apostólicos" son nombrados para llevar a cabo una investigación en nombre del Papa.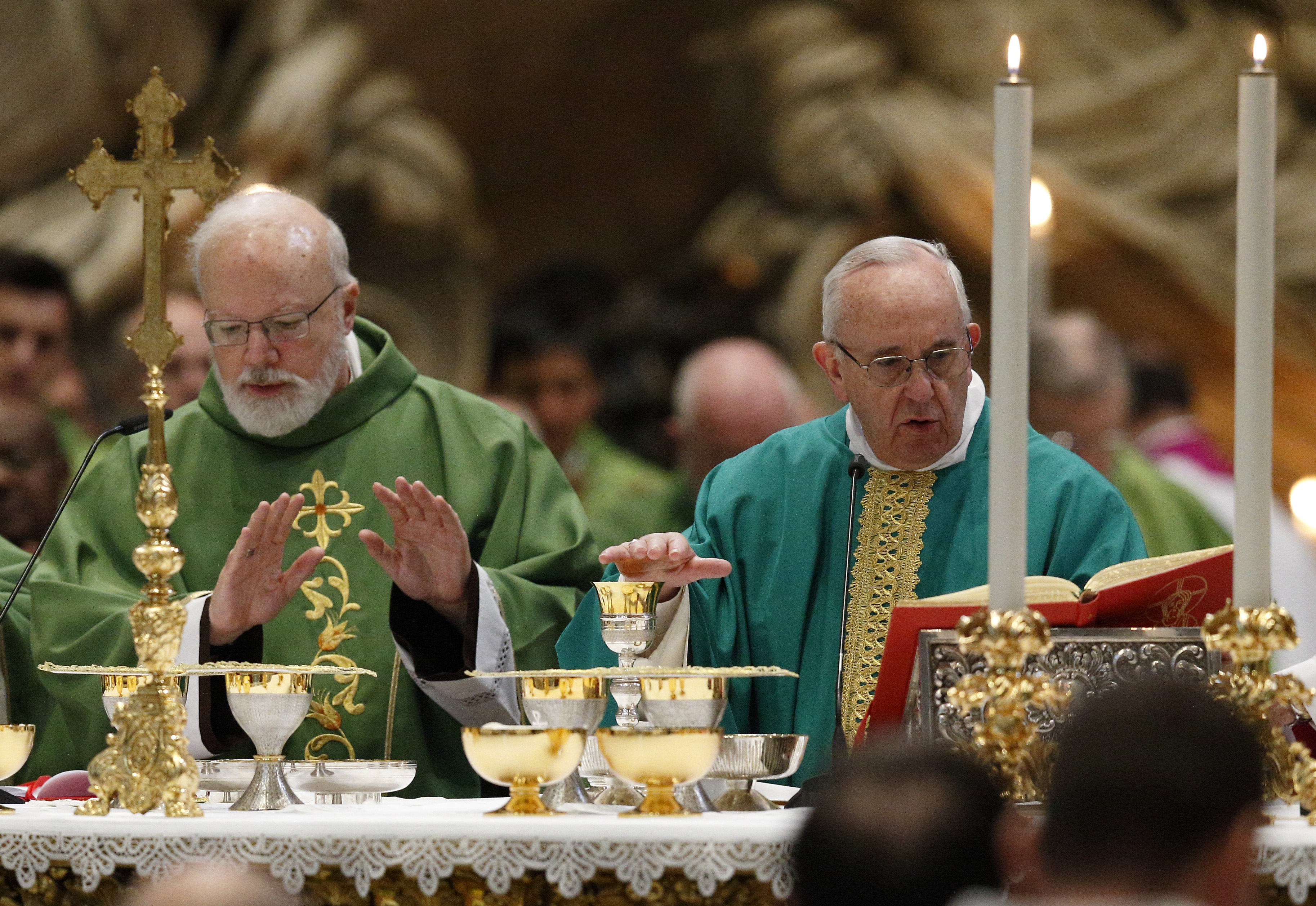 Los obispos dijeron que propondrían que la visita funcione "en concierto" con un grupo de laicos seleccionados por el propio National Review Board de los obispos, que los asesora sobre la prevención del abuso sexual infantil, a los que se les otorgaría todas las "facultades para actuar".
"Cualesquiera que sean los detalles sobre el caso del arzobispo McCarrick o los muchos abusos en Pennsylvania (o en cualquier otro lugar), ya sabemos que una de las causas es el fracaso del liderazgo episcopal", dijo DiNardo. "Como resultado decenas de queridos hijos de Dios fueron abandonados a enfrentar un abuso de poder solos".
"Esta es una catástrofe moral", dijo.
No está claro si en la visita se contempla indagar sobre lo que el Vaticano sabía de la conducta de McCarrick y cuándo tuvo conocimiento por primera vez.
Esas preguntas se han vuelto especialmente explosivas a raíz de la reciente acusación del arzobispo italiano Carlo Maria Viganò, un exnuncio apostólico en los EE.UU., que personalmente informó al Papa Francisco sobre esas preocupaciones en junio de 2013 y el pontífice esencialmente las ignoró.
———————————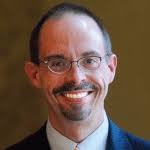 John L. Allen Jr. es el director de Crux, especializado en la cobertura del Vaticano y la Iglesia Católica.
Ha escrito nueve libros sobre el Vaticano y asuntos católicos, y es también es un popular comentarista sobre el catolicismo tanto en los Estados Unidos como a nivel internacional.
The London Tablet lo ha llamado "el escritor más autorizado sobre asuntos del Vaticano en el idioma inglés", y el famoso biógrafo papal George Weigel "el mejor reportero angloparlante del Vaticano". Cuando se le pidió a John que le hiciera la primera pregunta al Papa Benedicto XVI a bordo del avión papal de camino a los Estados Unidos en abril de 2008, el portavoz del Vaticano le dijo al Papa: "Santo Padre, este hombre no necesita presentación".
Entre sus libros se destacan "Opus Dei: An Objective Look Behind the Myths and Reality of the Most Controversial Force in the Catholic Church", y dos biografías de Benedict XVI. La primera escrita antes de que el cardenal Joseph Ratzinger fuera elegido papa; la segunda, publicada tras su elección fue la primera biografía del hoy pontífice emérito en inglés.
Tiene una licenciatura en filosofía de Fort Hays State University y una maestría en estudios religioso de la Universidad de Kansas, así como varios doctorados honoríficos de diferentes universidades.