DUBLÍN (Por Cindy Wooden/CNS)—. En un estadio repleto de familias católicas procedentes de varias partes del mundo, el papa Francisco les dijo a los laicos que son la gran mayoría de los miembros de la iglesia y que, sin ellos, la iglesia sería un lugar frío, una colección de estatuas.
"Dios quiere que cada familia sea un faro que irradie la alegría de su amor en el mundo", dijo el papa el 25 de agosto, celebrando el Festival de las Familias en el estadio Croke Park de Dublín en Irlanda.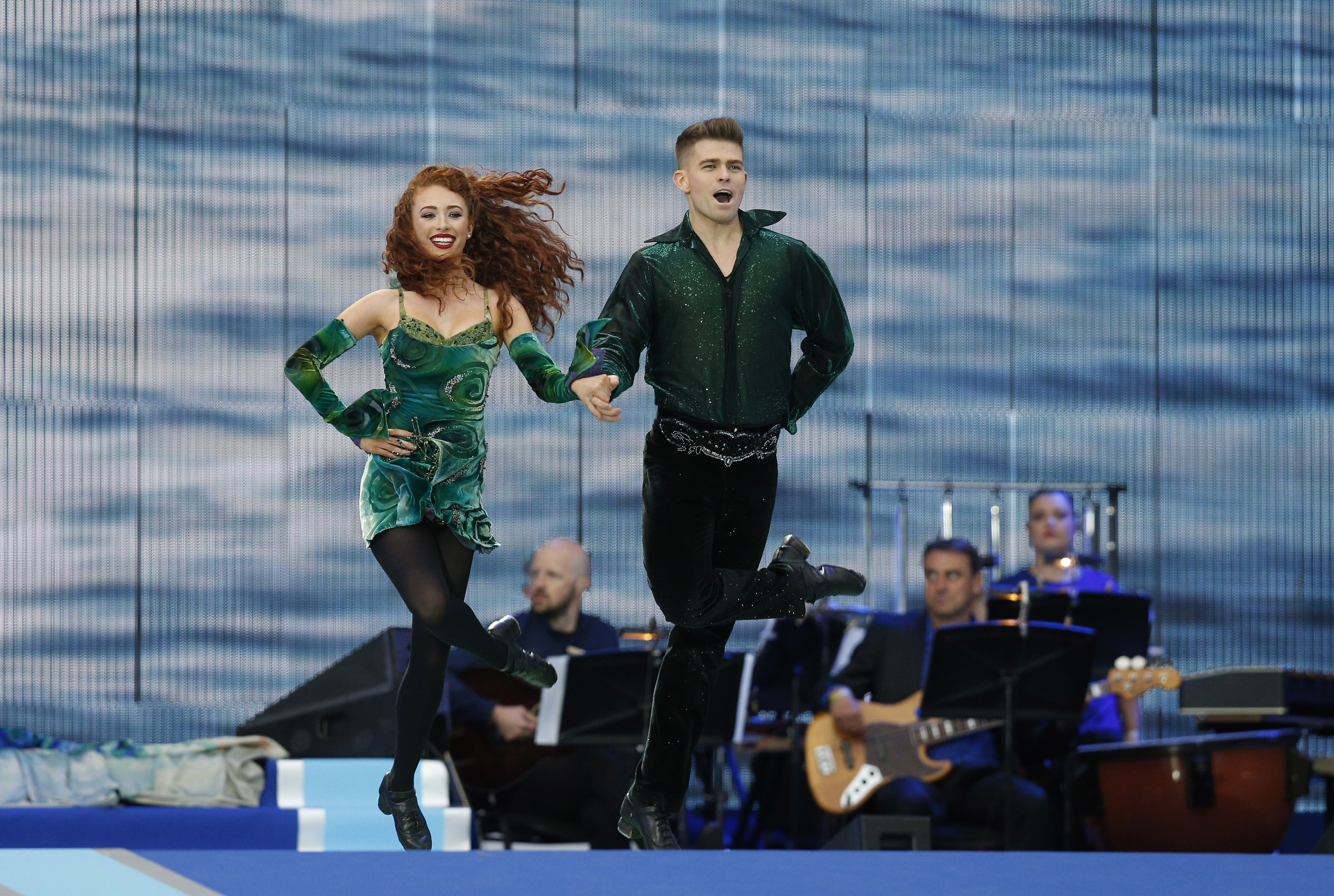 El grupo de baile irlandés Riverdance bailó para la multitud y produjo una gran sonrisa para el papa Francisco. "Los Sacerdotes", un trío irlandés clásico de sacerdotes, cantó, igual que Nathan Carter, un cantante irlandés, y el tenor Andrea Bocelli.
Ave Maria at the Festival of Families

Andrea Bocelli and Celine Byrne serenaded Pope Francis at the Festival of Families during the World Meeting of Families in Dublin, Ireland, with a lovely duet of "Ave Maria."#PopeInIreland #wmof2018 #Dublin

Posted by Diocese of Brooklyn on Saturday, August 25, 2018
Familias de la India, Canadá, Irak, Irlanda y Burkina Faso esperaban cerca del papa mientras videos de sus testimonios pregrabados se mostraban en una pantalla.
Marissa y Aldo d'Andrea, una pareja de canadienses de Toronto, hablaron sobre sus 54 años de matrimonio, sus cuatro hijos y 13 nietos, y uno que está por nacer.
Enass y Sarmaad Mekhael, son refugiados iraquí que viven en Australia. El hermano de Enass era el padre Ragheed Aziz Ganni, un sacerdote católico caldeo de 35 años asesinado en 2007 en una parroquia en Mosul, Irak.
Las familias que han enfrentado alegría y dolor y han encontrado refugio entre sus miembros y su fe, son modelos de cómo cada familia católica está llamada a dar testimonio en el mundo del amor de Dios, dijo el papa.
"Esto se llama santidad", dijo el papa. "Me gusta hablar de los santos 'de la puerta de al lado', de todas esas personas comunes que reflejan la presencia de Dios en la vida y en la historia del mundo".
El papa dijo que "la vocación al amor y a la santidad no es algo reservado a unos pocos privilegiados", sino algo que se les pide a todos los bautizados.
Una parte importante del amor de Dios es la capacidad de Dios para perdonar, y esa es una parte esencial de la vida familiar, también, dijo el papa.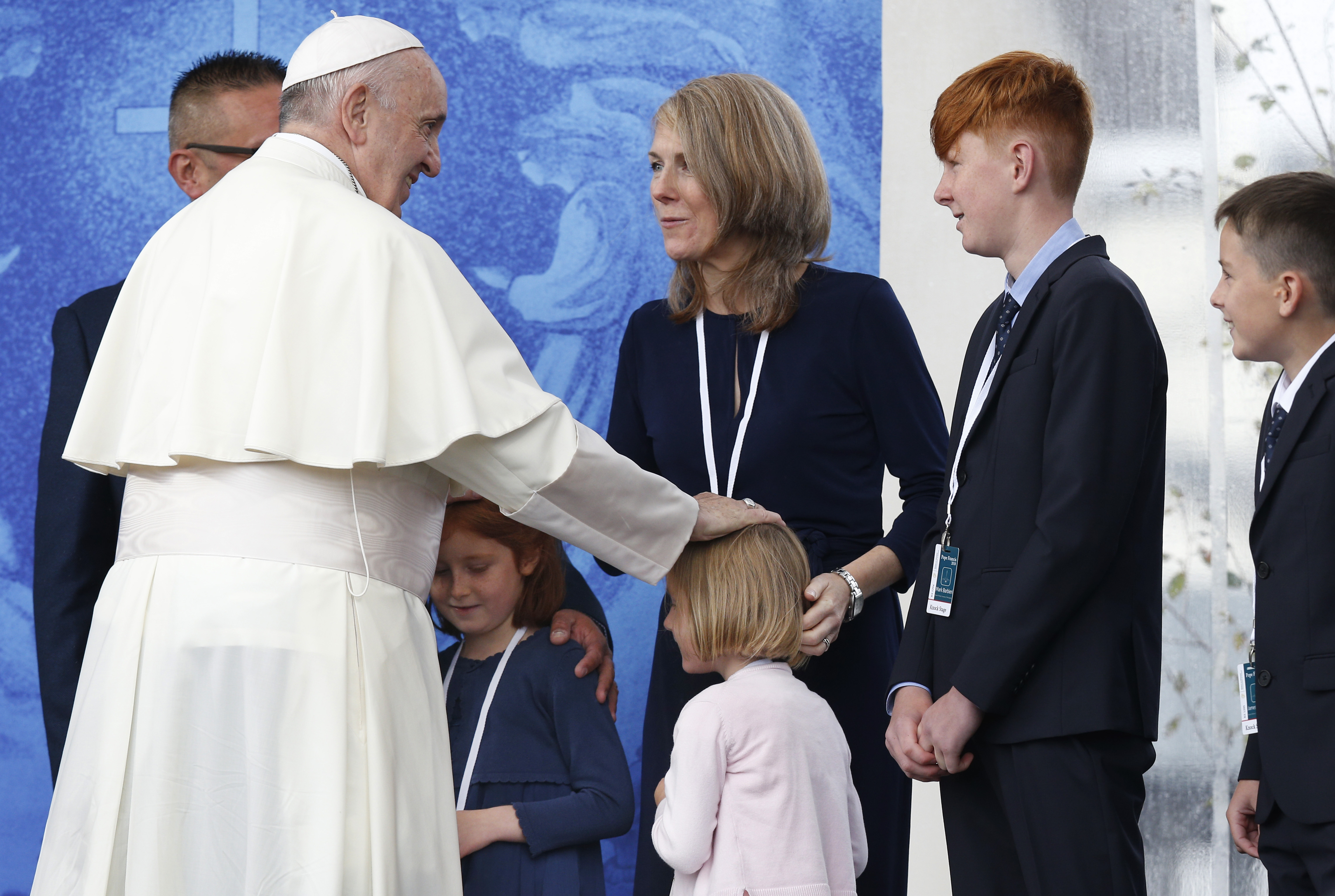 Cada familia experimenta tensiones y argumentos, dijo, pero "si tienes la tentación de irte a dormir a otra habitación, solo y aislado, simplemente llama a la puerta y di: 'Por favor, ¿puedo pasar?'. Lo que se necesita es una mirada, un beso, una palabra afectuosa… y todo vuelve a ser como antes".
El papa Francisco dijo que las historias compartidas por las parejas muestran claramente la fuerza y el poder que vienen de la fe y de la gracia del matrimonio sacramental.
"El amor de Cristo, que renueva todo, es lo que hace posible el matrimonio y un amor conyugal caracterizado por la fidelidad, la indisolubilidad, la unidad y la apertura a la vida", dijo. "Dios, Padre, Hijo y Espíritu Santo, crearon a la humanidad a su imagen para hacerla partícipe de su amor, para que fuera una familia de familias y gozará de esa paz que solo él puede dar".
Muchos asientos en el estadio quedaron vacíos. Años de revelaciones de décadas de abuso físico, sexual y emocional a manos de personas encargadas de la iglesia y soluciones que demoraron en ser implementadas erradicaron a la población católica irlandés. Estos eventos hicieron que mucha gente dejara de ir a la iglesia.'
Father Patrick McCafferty, one of the abuse survivors who met Pope Francis privately tonight, has told BBC News the Pope promised them consequences for clergy who cover up abuse. #popeinireland pic.twitter.com/jjGUNK8wpG

— Callum May (@callummay) August 25, 2018
Durante la primera parte del día, el papa Francisco pasó 90 minutos reuniéndose privadamente con ocho personas que fueron abusadas. Una de las personas, el padre Patrick McCafferty, tuiteó que fue "una excelente reunión en todos los aspectos".
Laura Egan, de Dublín, quien estuvo presente durante el evento de Croke Park dijo que las revelaciones de abuso han afectado a la iglesia.
"Vine a ver al último papa en 1979. El papa Francisco es un hombre maravilloso", dijo, añadiendo que cree que puede ayudar a la iglesia a superar el escándalo de abusos, "pero son los del Vaticano los que deben hacer algo al respecto. Ese círculo tiene mucho poder. Creo que Francisco puede hacer que eso suceda".
Paul Doherty, de 53 años, un vigilante del condado Meath, dijo en una entrevista con Catholic News Service que "la fe todavía es fuerte aquí, pero esta es una Irlanda muy diferente de la que visitó el papa Juan Pablo II. Ojalá esto (el evento de Familias) fortalezca la fe".
Doherty, un ministro de la eucaristía en su parroquia, dijo que la iglesia en Irlanda necesita una nueva vida, una nueva manera de pensar.
"Tenemos que dejar que la gente hable, sobre el divorcio, el matrimonio, el aborto, el matrimonio entre personas del mismo sexo. La gente de Irlanda tiene una voz. Y la están usando".