Hace 20 años, el chef Eddie Rigo llegó a los Estados Unidos desde São Paulo, Brasil, en busca de una vida mejor. Estaba huyendo de la creciente ola de crimen en su país y de los violentos ataques contra los negocios de su familia.
"El último robo fue con armas de fuego. Estábamos muy asustados", recuerda. "Al día siguiente, decidí que ya no quería quedarme aquí". Rigo se mudó a Long Island y comenzó a trabajar en una pizzería. Más tarde trabajó en diferentes restaurantes en Nueva York, y se hizo ciudadano estadounidense en 2015.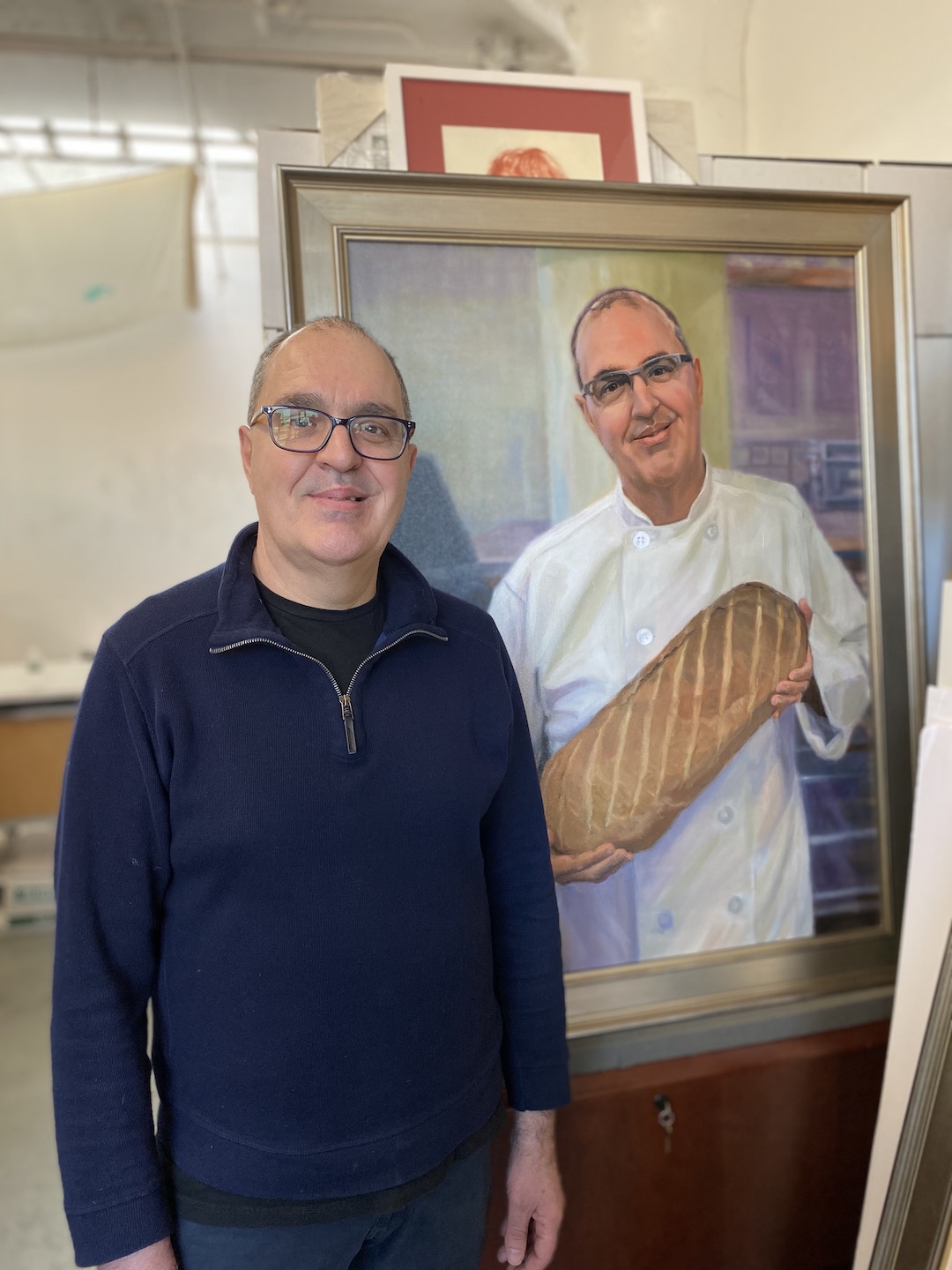 En 2018, cuando la artista local Betsy Ashton se acercó a Rigo para hacerle un retrato para su serie, "Portraits of Immigrants" (Retratos de inmigrantes), no podía decir que no a esta oportunidad única en la vida. Al ver su retrato terminado, dijo que se sentía muy honrado. "Ahora soy inmortal", dijo en broma. "Es algo que no tiene precio. Estos retratos son un contraste de cómo [el gobierno] retrata a los inmigrantes hoy".
Para Betsy Ashton, la serie es una forma de narrar visualmente las vidas extraordinarias de inmigrantes comunes que encontró en su día a día, desde una enfermera especializada hasta su tienda local. El punto era recordar a los estadounidenses "quiénes son en realidad los inmigrantes de hoy".
Me enojé cuando escuché el discurso de odio producto de las elecciones de 2016, toda esta denigración de los inmigrantes, y yo soy de aquí. Vivo en Queens, que es la parte de Nueva York donde vive la mayor concentración de personas nacidas en el extranjero en el planeta. Y puedo dar fe de que eso no es cierto", dijo Betsy, quien se considera una artista "tradicional, realista".
"Mi objetivo es abrir los corazones y las mentes que han sido contaminados y cerrados por esta retórica desagradable: promover la empatía, la comprensión y el amor, el amor fraternal. Esa es la esencia de la nación en la que yo crecí", dijo.
"Estas son las personas que están construyendo Estados Unidos y que continúan construyéndolo". La próxima exposición de Betsy Ashton, "Retratos de inmigrantes", exhibirá 18 de sus retratos y las historias de sus protagonistas, desde refugiados hasta inmigrantes indocumentados. Estará abierta del 14 de febrero al 8 de marzo en Green Door Gallery en la Parroquia de la Divina Misericordia, de Williamsburg.
Betsy dijo que comienza buscando personas de ciertos lugares, religiones y raíces, que vinieron a los EE.UU. por diferentes razones, pero todos con una misma finalidad: huir de su país de origen.
"Las personas no solo dejan sus hogares; están escapando de algo", dijo Betsy, mencionando el crimen, la pobreza, la guerra y la agitación política como razones por las cuales ellos migran. "Son buenas personas que no quieren que sus hijos sean masacrados por una banda de narcotraficantes. Estoy tratando de decir la verdad. Porque alguien sigue alardeando en todos los medios, gritando una sola cosa. Pero esa no es la historia real. Es importante que los estadounidenses vean quiénes son… Estas son personas increíblemente arriesgadas".
Betsy estaba profundamente conmovida por la historia de una mujer en particular. Se llama María, una migrante guatemalteca que cruzó el Río Grande, buscando refugio y una vida mejor para su familia. Durante más de 20 años, trabajó como ama de llaves para enviar dinero a sus hijos pobres, hasta que pudo visitarlos en Guatemala cuando ya eran adultos. "Ella se sacrificó dejando a su familia", dijo Betsy. "Recuerdo que una semana después de terminar el retrato, María recibió su residencia legal. Los sacrificios por los que han pasado algunas de estas personas son impresionantes".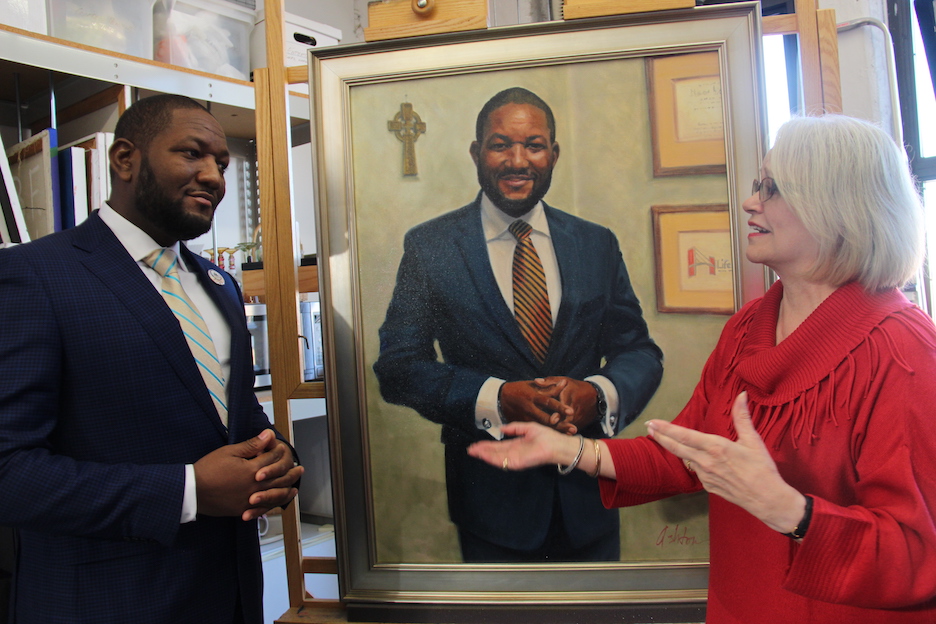 Otro de sus "modelos" fue Porez Luxama, un católico que emigró de Haití a la edad de 18 años. Después de escapar de la violencia en su país de origen, él y su madre se mudaron a Brooklyn para poder tener una vida mejor y más segura. Se hizo maestro y, en 2006, fundó una comunidad sin fines de lucro llamada Life of Hope con su hermano el padre Juan Luxama, el vicario parroquial en la Iglesia Santuario de Santa Bernadette en Dyker Heights.
Porez dijo que la mejor forma en que los inmigrantes pueden integrarse es sirviendo a los demás. "Estamos en condiciones de retribuir, de manera que los que lleguen después de nosotros no tengan que pasar tanto trabajo", dijo.
Agradeció a Betsy por su trabajo y dijo que su serie "habla sobre todo de nuestro valor… necesitamos seguir construyendo puentes de generación en generación". La exhibición "Retratos de inmigrantes" abrió al público el viernes 14 de febrero en Green Door Gallery en la Parroquia de la Divina Misericordia (206 Skillman Ave., Brooklyn, NY 11211), y permanecerá durante cuatro fines de semana, hasta el domingo 8 de marzo.