CHICAGO (CNS)—. La hermana Mary Jo Sobieck no solo es una monja dominica, ahora también es toda una celebridad en Internet.
Luego de hacer el lanzamiento inaugural para un partido de los Chicago White Sox contra los Kansas City Royals en Chicago este pasado 18 de agosto —una curva que los jugadores de béisbol llaman acción "de 12 a 6″—  logrando un strike perfecto.
También contribuyó a este furor que la hermana Sobieck hiciera rebotar la pelota contra su bíceps antes del memorable lanzamiento.
Un clip de 24 segundos de Sor Sobieck lanzado la pelota inaugural había alcanzado las 2,73 millones de reproducciones en Internet solo tres días después, pero a su vez ha sido distribuido en la mayoría de los canales deportivos.
One of the most impressive first pitches of all time. 😱 pic.twitter.com/PA7M4iC9X5

— Chicago White Sox (@whitesox) August 18, 2018
Incluso la cuenta de Twitter oficial de los White Sox lo llamó "uno de los primeros lanzamientos más impresionantes de todos los tiempos".
El lanzador de los Medias Blancas, Lucas Giolito, que se agachó en el plato para ver el lanzamiento de la monja, comentó a mlb.com después del juego: "Fue increíble. Tenía toda una rutina. Todo planeado. Tuve la suerte de poder verla hacer esa impecable lanzamiento desde un lugar provilegiado".
Mercy, Sister Mary Jo! pic.twitter.com/oM9jBDT5N7

— Chicago White Sox (@whitesox) August 19, 2018
La hermana Sobieck, miembro de las Hermanas Dominicas de Springfield, Illinois, es profesora de teología en Marian Catholic High School en los suburbios de Chicago Heights.
Sor Sobieck es graduada de Cathedral High School en St. Cloud, Minnesota.
En el montículo, vestía sobre su hábito una camiseta católica mariana con el número "60" en la espalda en homenaje al 60 aniversario de la escuela. Esa noche también estuvo dedicada a Marian Catholic.
Por su parte, la hermana Sobieck está modestamente desconcertada por todo esto. "Mi objetivo es simplemente inspirar a los jóvenes a hacer lo mejor y dejar que Dios haga el resto. Se trata de darlo todo, ser resistente, formar parte de un equipo", dijo en el sitio web de la escuela.
La fama de la hermana Sobieck es tan grande que, en dos días, Marian Catholic pudo ofrecer una estatuilla de cabeza oscilante que mostraba a a "diestra lanzadora" en plena forma. Cinco dólares de los $25 que cuesta cada estatuilla serán donados a Marian Catholic.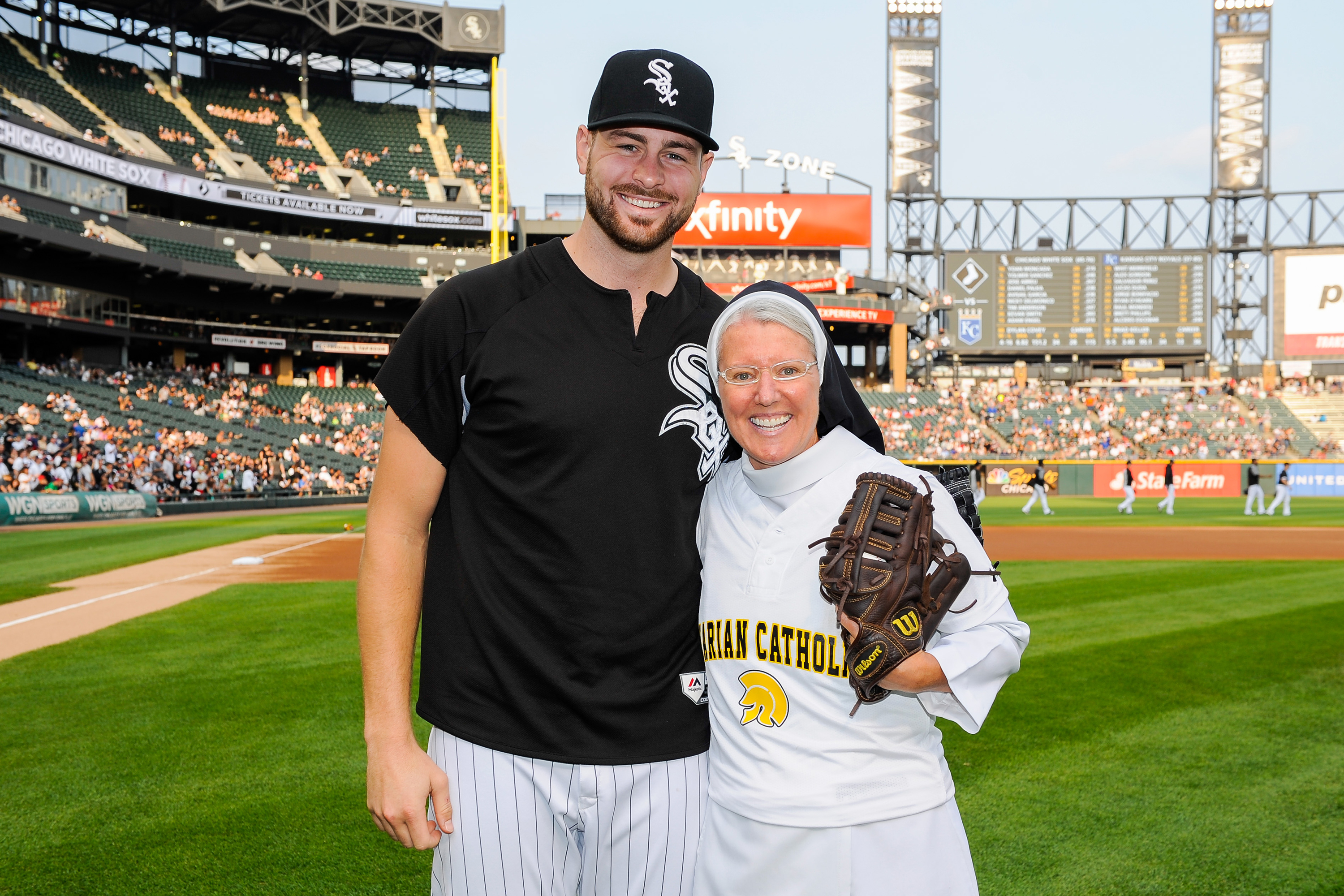 "En realidad, fue excepcionalmente buena", dijo el manager de los Medias Blancas, Rick Renteria, a los periodistas después del partido. "Hablamos un poco con ella, pero antes de que estuviéramos hablando con ella, estaba hablando con alguien y quería calentar. Tenía un guante y una pelota. Le dio a Giolito el guante. Se alejó unos 45 pies y lanzó una bala.
"Me quedé sorprendido. Giolito le devolvió la bola y ella la capturó a mano limpia. Me decía, 'OK, parece que sabe jugar un poco', así que empezamos a hablarle. Creo que me dijo: 'Fui jardinera central y torpedera'. Le dije: '¿Puedes jugar por nosotros?' Y me respondió: 'Claro' ".
Los Medias Blancas perdieron el juego de esa noche 3-1, ubicándose en el cuarto lugar en la División Central de la Liga Americana con un registro de 47-77 según datos hasta el 20 de agosto.
La temporada de Grandes Ligas se extiende hasta el 1 de septiembre.