El padre Frederick Cintrón nació en Brooklyn el 26 de marzo de 1959. Muchas personas dicen que el día de nuestro nacimiento marcará el destino de nuestras vidas y eso podría confirmarlo el padre Cintrón. Él nació un Jueves Santo, el día de la institución del sacerdocio.
Nació en una familia puertorriqueña, su madre es de Manatí y su padre de Guayanilla, es el cuarto de once hijos. Estudió la primaria en la escuela católica de San Pedro y San Pablo en Williamsburg y durante la escuela secundaria estudió Aviación.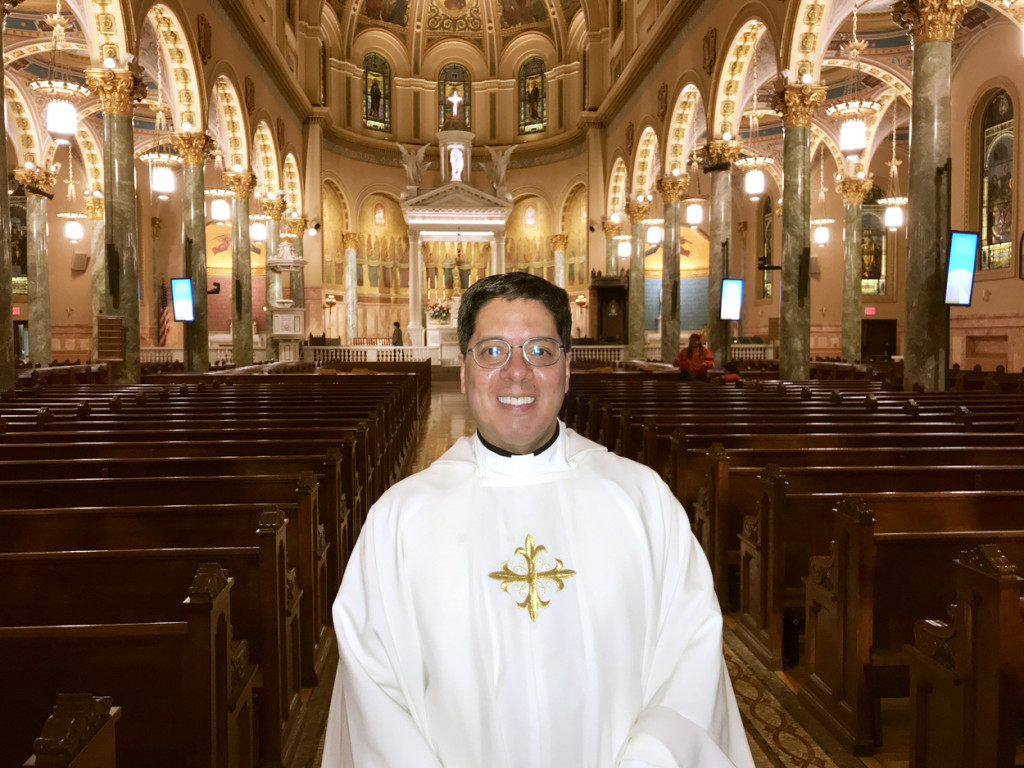 El padre Cintrón recuerda que no fue un momento único el que lo llevó a pensar en la vida sacerdotal. "No fue un momento clave, no es como la conversión de Pablo, yo creo son varias experiencias cuando estaba creciendo, con la familia y en el barrio. Yo trabajé en una bodega cuando tenía 11 años y yo veía gente alegre y triste".
Creció en unos años donde Williamsburg estaba rodeado de pobreza, pandillas y drogas, pero el joven Frederick encontró en un sacerdote un apoyo a su vocación, "gracias a Dios que el padre Robert Sebazco fue uno de los que me inspiró, sin darse cuenta, solo viendo su ejemplo y viendo el barrio, quizás pensé, con tanto sufrimiento, visto en diferentes maneras, creo que ahí se sembró una semilla".
"En mi tercer año de secundaria consideré en serio la posibilidad de ser sacerdote, en ese momento hablé con el padre Robert Sebazco y me dio un pasaje de la Biblia para que reflexionara, es el pasaje del llamado de Saúl, pasó el tiempo y yo sentía que ese era el camino al que Dios me estaba llamando e ingresé a Douglaston en 1978, el año de los tres Papas (Pablo VI, Juan Pablo I y Juan Pablo II)".
Frederick Cintrón ingresó al Cathedral College of the Immaculate Conception en Douglaston, donde estudió los cuatro años de Filosofía y consiguió el B.A. (Bachelor of Arts) en Sicología y de 1982 a 1987 estudió Teología en Seminary of the Immaculate Conception en Huntington.
El 16 de mayo de 1987 fue ordenado sacerdote por monseñor Francis Mugavero, entonces obispo de Brooklyn, en Cathedral College of the Immaculate Conception.
"Mis papás lloraron, estaban contentos porque primero, en mi barrio nunca vi un sacerdote puertorriqueño, tengo entendido que soy el primero en la Diócesis, nacido y criado en Brooklyn. Todos los padres que conocíamos eran de ascendencia italiana, irlandesa, pero nunca llegué a conocer un sacerdote puertorriqueño".
El padre Cintrón recuerda su primera misa con mucha emoción, fue en la parroquia de San Pedro y San Pablo. Su primera asignación fue en la parroquia de San Miguel en Flushing como Vicario Parroquial donde estuvo dos años, luego fue trasladado a Nuestra Señora de Fátima en Jacksons Heights por seis años también como Vicario Parroquial. "En esta parroquia había una comunidad colombiana muy grande, allí comencé la devoción al Divino Niño, también la Misa de Gallo, la misa de medianoche, y mejoré mi español con ellos".
Luego fue trasladado a Santa Fortunata en East New York en Brooklyn, estuvo como asistente un año y medio. En 1998 fue nombrado párroco, allí estuvo hasta 2003. "Tomé un tiempo sabático, fui a estudiar a Roma desde agosto de 2003 hasta la primera semana de noviembre de ese año. El obispo me pidió que fuera a la parroquia de San Nicolás de Tolentino en Jamaica en Queens, estuve por un año como asistente y en 2005 me nombraron párroco de Santa Catalina de Alejandría, ya llevo doce años acá".
En su tiempo le gusta oír todo tipo de música, árabe, cumbia, merengue, oriental: "Yo soy zurdo y dicen que a las personas zurdas les gusta mucho el arte y, en mi caso es cierto, me gustan las pinturas, los museos, yo pintaba hace algún tiempo, ya no lo hago. También me gusta caminar, y las artes manuales".
"Lo más bonito de ser sacerdote es estar en los momentos más dolorosos en la vida de las personas y poder decirles de muchas maneras que papá Dios está con ellos, en esos momentos es donde me he sentido muy sacerdotal, en esos momentos donde parece que el mundo se está cayendo a las personas y poder estar con ellos en esos momentos".