A Lloyd Vogel, un exitoso periodista conocido por su estilo cínico y agresivo, lo designa su editora para que haga una breve entrevista a Fred Rogers, creador y conductor del programa infantil Mister Rogers Neighborhood. Vogel, quien arrastra serios conflictos familiares irresueltos, acepta el encargo a regañadientes, porque lo considera intrascendente y además desconfía de la autenticidad de la personalidad televisiva de Rogers. Este, por su parte, acepta conceder la entrevista, intrigado por la personalidad del periodista después de leer sus trabajos anteriores.
Fred Rogers (1928-2003) es un ícono de la cultura norteamericana. Su programa, que se mantuvo en el aire –con variaciones menores de título y formato– durante 31 temporadas, dejó una impronta imperecedera en la formación de varias generaciones de estadounidenses.
A Beautiful Day in the Neighborhood se inspira en el artículo de Tom Junod Can you say… hero?, publicado en la revista Esquire en 1998. La película especula sobre lo que podría ocurrir cuando la realización de una entrevista transciende al mero hecho periodístico para convertirse en un encuentro profundamente humano y sanador.
La directora Marielle Heller ha querido rendir homenaje a Rogers con esta película, que ha realizado como si fuera uno más de los programas televisivos de este, con todo y títeres, maquetas animadas de las ciudades en las que se desarrolla y las típicas secuencias de presentación y despedida del programa.
La cinta se beneficia mucho, no solo de la proverbial calidad actoral de Tom Hanks, sino además de esa aura de buena persona que él logra comunicar, como pocos, a los personajes que interpreta. Hay que destacar también la excelente interpretación de Matthew Rhys –definitivamente consagrado por su magistral desempeño en la serie The Americans– como el atormentado Lloyd Vogel.
Es típico de esta época que vivimos que la presencia de la fe cristiana en la obra de Rogers –quien era un hombre profundamente religioso, ministro presbiteriano ordenado– queda minimizada en la película, reducida a esporádicas referencias a la oración y diluida en una psicologizada espiritualidad secular. No obstante, el balance general es muy positivo, y hay un momento genial cuando la Sra. Rogers, en respuesta a una insidiosa indirecta de Vogel, le hace una aclaración sobre la naturaleza de la santidad que es una verdadera joya.
La película llegó a las salas cinematográficas de EE.UU. en noviembre de 2019, y fue bien recibida por crítica y público. En el sitio Rotten Tomatoes ha tenido 96% de aprobación de los críticos y 92% de la audiencia, con una calificación promedio de 8,07 sobre 10. Está disponible ahora en BD y en los principales servicios de streaming.
Sin dudas, una de las películas más positivas y ricas en valores del último año.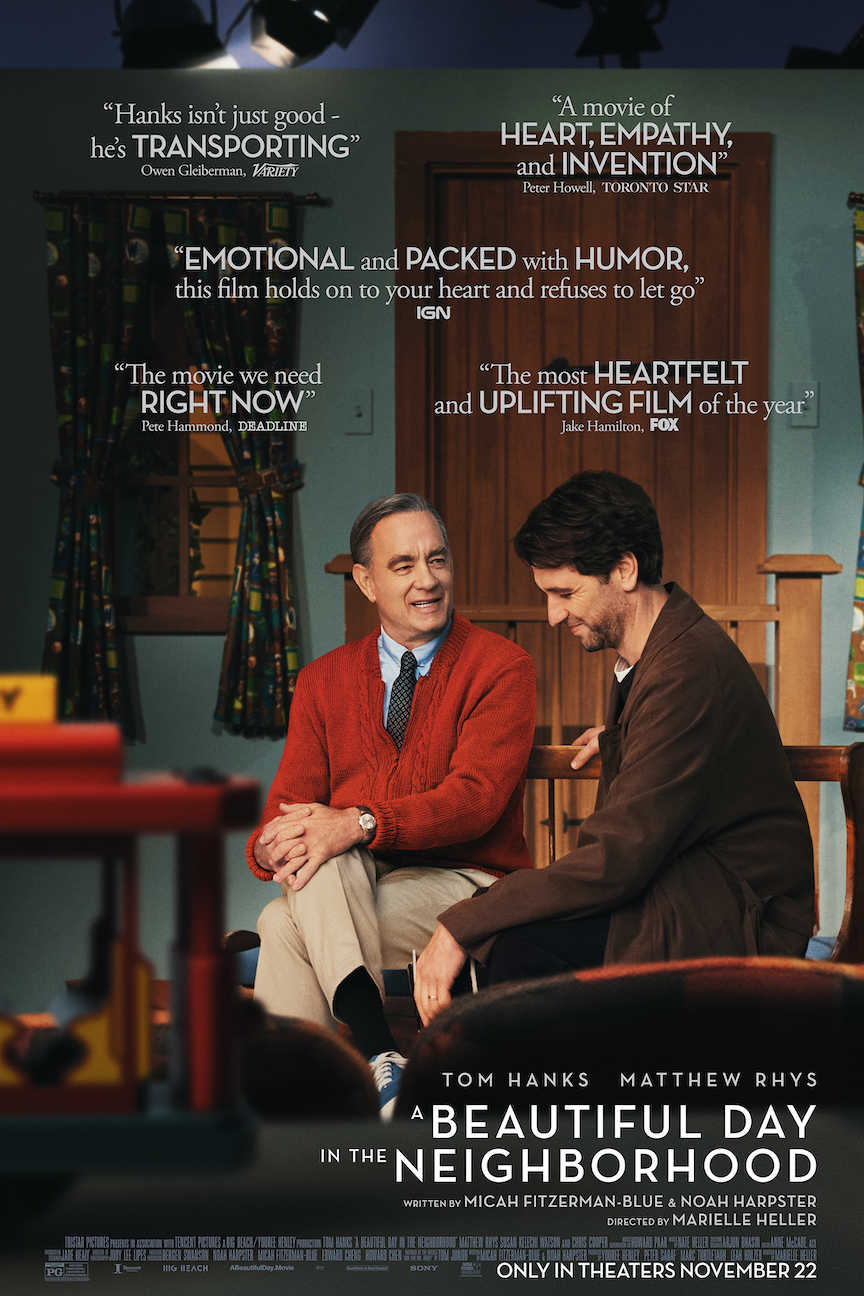 Un hermoso día en el vecindario (A Beautiful Day in the Neighborhood) / EE.UU. / 2019 / color, 109 minutos / Dirección: Marielle Heller / Intérpretes: Tom Hanks, Matthew Rhys, Susan Kelechi Watson, Chris Cooper.